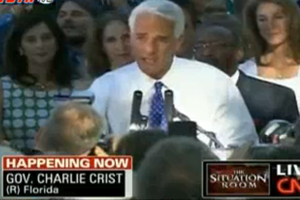 Florida Governor Charlie Crist is officially running for Senate as an independent. The now former Republican primary candidate announced his decision this afternoon after keeping his state and his party waiting on his decision for most of the week. Today would be the last day for him to switch party identification on the ballot.
In a statement to the public today, Crist said:
My decision to run for the United States Senate as a candidate without party affiliation in many ways says more about our nation and our state than it does about me. As someone who served the people of Florida more than 15 years… I can confirm what most Floridians already know: unfortunately, our political system is broken.

Frankly for me it's always been that simple. I haven't supported an idea because it's a Republican idea or a Democratic idea. I support ideas that I believe are good ideas for the people.
The decision was prompted by two public opinion issues. Crist, who was considered the frontrunner for most of the beginning of the campaign, dropped significantly in the polls among Republicans to Tea Party sympathizer Marco Rubio. Meanwhile, in general public polls, Crist is either leading or neck-in-neck with Rubio and the probable Democratic candidate, Kendrick Meeks. Strategically, an independent run would dilute the far-right pool that has embraced his primary opponent with the moderates who elected him governor.
Crist's approach to governing, which puts him at odds with many conservatives in his former party, has been relatively problematic for some time, and now the party finds itself having to separate itself from a sitting Republican governor to campaign against him. RNC Chairman Michael Steele has said he is looking forward to campaigning for Rubio and wishes both candidates the best. If Crist does win, it also raises the question of how he will legislate. While, similar to Joe Lieberman, he will probably caucus with his old party, the issue of how welcome he will be once there is another story.
Watch his announcement below:

Have a tip we should know? tips@mediaite.com