Check Out How Much Ridiculous Stuff Milo Yiannopoulos is Demanding For His Speaking Tour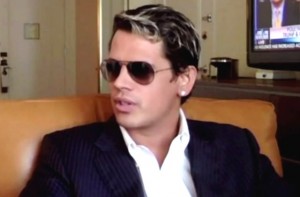 Milo Yiannapoulos is apparently going to be the subject of an upcoming documentary, which will apparently give a lot of focus to how much weird and crazy stuff he's ordered as part of his working requirements.
When he's not getting banned on Twitter, the Breitbart tech editor has been traveling America for months on his "Dangerous F*ggot" speaking tour. The Hollywood Reporter is reporting that this will be made into a film, which their source says will be emphasizing how the alt-right's favorite gay firebrand is kind of a spoiled prima donna.
According to a tour member who Yiannopoulos confirmed is on his team, the new phase of the tour will head to 45 college campuses, and the price tag for the whole thing will come out to more than $1 million. This "rider" gave THR a partial list of Milo's demands and… it's hard to decide whether it's more strange or superfluous:
– No playing any music by Adele

– De-fuzzed peaches

– A flock of 50 white doves must be released at every show

– A snow-cone machine

– Double-stuff Oreos

– Two dozen de-thorned white roses placed right next to a photo of Mariah Carey every day

– Security personnel shouldn't wear T-shirts

– KFC thighs with the skin removed

– Four hookahs

– A full-length mirror

– Four topless Abercrombie & Fitch models

– Tahitian vanilla candles

– Horse-oil hand lotion that THR says is banned in the U.S.
I mean, who can go anywhere without their very own snow-cone machine? Then again, we are talking about the same guy who once did this.
[Image via screengrab]
— —
>> Follow Ken Meyer (@KenMeyer91) on Twitter
Have a tip we should know? tips@mediaite.com