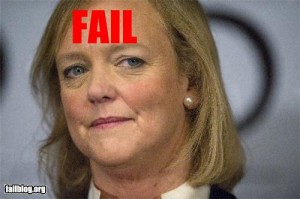 In the latest bit of priceless comedy to come out of California's gubernatorial race, Republican candidate Meg Whitman's otherwise spiffy looking new campaign ad has gotten her into a bit of trouble with Internet titan Cheezeburger Network. The ad, entitled "A Lifetime in Politics, A Legacy Of Failure," highlights the supposed failures of her Democratic opponent, Jerry Brown. Towards the end of the ad is a spoofed screenshot from Cheezeburger Network's FAIL Blog, featuring a giant caps-locked "FAIL" superimposed over a picture of Brown.
Whitman's FAIL Blog spoof, no doubt an attempt to display some Internet savvy, didn't go over too well with Cheezeburger Network founder Ben Huh, however. Last Friday, Huh posted a scathing reprimand on FAIL Blog and demanded both a written apology from the Whitman campaign as well as the removal of the  video. From Huh's post:
We want to make it VERY clear that FAIL Blog nor the Cheezburger Network had any involvement or knowledge of the Whitman campaign use of a screenshot of FAIL Blog. In fact, the screenshot portrayed in the video never existed because the Whitman campaign faked the content within the screenshot. FAIL Blog or the Cheezburger Network has never been involved in any endorsement of any candidate or political party and do not plan to do so.
Thus far there's been no response. We'll assume that Huh's "Whitman Fail" picture (above) is the sole exception to that rule, given that the post script warns Brown not to steal the image for his own campaign.
Whitman's campaign video, which is sill available on YouTube, is below. The spoof fail starts at 0:51.
Have a tip we should know? tips@mediaite.com