Chicago Media Fascinated With Lifetime TV Actor Who Looks Like Rod Blagojevich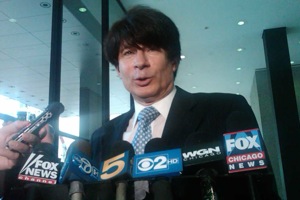 A former Lifetime movie actor and civil attorney who had been told by several people that he resembles former Illinois governor Rod Blagojevich decided to fly to Chicago and visit the court in which Blagojevich is being tried. According to reports, Jerry Kroll's decision was "for kicks," and he was given the full "Blago" treatment.
Kroll, whose hair strongly resembles that of the governor despite his assertions that his hair has always been the wait it appears now, had no other intention of flying in than to impersonate Blagojevich on his own turf. He said he first realized he resembled Blagojevich when a stranger stared at him and gave him the finger, which he found "odd" until he turned on the news.
The media that greeted him was described as "bored" before he showed up by the Chicago Sun-Times "Blago Blog," and excited to see, at the very least, the vestiges of a person resembling Blago. Kroll is a Blago supporter– "I feel his pain," he told the media– and joked about possibly representing him in court.
According to his website's bio, he is an accomplished TV actor:
"Kroll's first major co-starring role was during 2002 in the film Second to Die as Raymond "Skooch" Scucello (Lifetime, 2005). Later, he played Sheriff Merle Karnopp in Starkweather (Showtime, 2005), a crime drama based on the true story of a 1950s-era serial killer. Starkweather was previewed at the Cannes Film Festival in 2004 and received high praise from viewers. He recently completed his first starring role as detective Gary Hill in the cop-thriller feature film Officer Down (Lifetime, 2005). Following that, he is scheduled to star in the action/thriller feature film Roadkill (2006) as well as a third movie for the production company scheduled for release in 2006/2007."
At this point in the Blago case, can anything really surprise us? That a completely random actor who forgot to cut his hair for a month or so just up and decided to appear for no good reason and was mobbed by the media for it feels pedestrian at this point.
The other moral of the story? The media will cover anything– from Aqua Buddha to Mayor Johnston to religious New York real estate developments— anything in August, so if you're thinking of crashing any event of significance and/or hilarity, now's the time.
Have a tip we should know? tips@mediaite.com