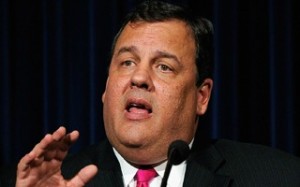 At at event on Friday morning, New Jersey Gov. Chris Christie offered his take on school security, following the Newton shooting, remarking that he doesn't believe placing armed guards in schools would be an "effective" approach to prevent similar tragedies in the future.
RELATED: NRA Marks One Week Since Sandy Hook With Crocodile Tears, Blame For Videogames And Movies
"In general I don't think that the solution to safety in schools is putting an armed guard because for it to be really effective in my view, from a law enforcement perspective, you have to have an armed guard at every classroom," Christie said, according to the Bergen Record. "Because if you just have an armed guard at the front door then what if this guy had gone around to the side door? There's many doors in and out of schools."
He further argued that such measures are not "conducive to a positive learning environment," adding that "you don't want to make this an armed camp for kids."
While Christie's comments are related to those made at the NRA's press conference earlier today, the governor noted that he was not reacting directly to those comments because he hadn't seen the presser.
During that presser, the NRA's Wayne LaPierre pointed the finger at violence in video games and the entertainment industry, while advocating placing armed security in every school in the country.
"The only thing that stops a bad guy with a gun is a good guy with a gun," LaPierre contended.
(h/t NorthJersey.com)
Have a tip we should know? tips@mediaite.com