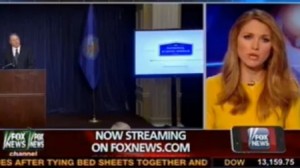 If you have any doubt that National Rifle Association executive vice president Wayne LaPierre's I-will-train-your-armed-guards-for-free-to-fight-the-assault-weapons-I-protect-as-long-as-you-blame-movies-and-Obama press conference was a disaster, look no further than the coverage of it by the three major cable news networks. While CNN and MSNBC covered the entirety of LaPierre's remarks, which will put Republican lawmakers in the uncomfortable space of standing with them, Fox News was several minutes late to the party, and first out the door, cutting LaPierre out a full two minutes before he was done.
While MSNBC carried all of LaPierre's remarks, and CNN stayed with the presser even after LaPierre ceded the podium to former Congressman Asa Hutchinson (R-AR), Fox News missed the first four minutes of the press conference. They joined the presser just as an anti-NRA protester was being escorted out, and stayed with LaPierre as he rolled out a familiar stream of clichés about gun regulations, blamed videogames and films from the nineties, and offered to help put an armed guard in every school, all in service of ignoring the role of civilian weapons of mass destruction in this killing. However, Fox News cut away from the press conference more than two minutes before LaPierre was finished.
The NRA response itself was nothing more than a predictable attempt to deflect blame (and action) against itself, but the attention-getting way they went about it promises to make this event poisonous for the group, at least with the general public, and poisonous for Republicans, as well. LaPierre tried to make this a divisive political fight between gun owners and everyone else, but even gun owners, even NRA members, don't agree with Wayne LaPierre. While MSNBC was probably more than happy to let LaPierre "please proceed," and CNN found the remarks worthy of complete coverage, Fox News, for whatever reason, decided to end the ordeal early.
Fox News has been pushing back against the notion that they are driving their coverage to avoid serious discussion of gun control, and ordinarily, cutting LaPierre off would be seen as quashing pro-gun propaganda, but LaPierre bungled this publicity stunt so badly, it was an act of mercy. Given the anticipation surrounding this press conference, Fox's decision to skip significant portions of it probably wasn't welcome news to the folks back at NRA headquarters for a variety of reasons — most immediately because they are likely Fox News viewers, watching their boss' big moment on that network.
Here's the beginning and the end of Fox's coverage of the NRA press conference: (you can see Wayne LaPierre's full remarks here)
Have a tip we should know? tips@mediaite.com