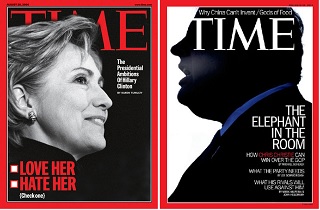 Fresh off of his post-blowout-reelection Sunday show tour, Governor Chris Christie (R-NJ) got some tough Tuesday morning: while he may be the "Elephant in the Room," as Time magazine dubbed him, former Secretary of State Hillary Clinton is the 800-lb gorilla in the 2016 field. Even following his much-ballyhooed blue state victory against State Senator Barbara Buono (D-NJ), Christie trails Clinton by ten points in the latest NBC News poll, a wider margin than in any of Public Policy Polling's 2016 polls to date. Not only does Christie trail nationally, he does even more poorly in his native region. From NBC News:
The poll finds Clinton getting the support of 44 percent of all adults in a hypothetical match up against the New Jersey governor, who gets 34 percent. The rest of respondents either preferred another candidate, said they would not vote, or were undecided.

And while Election Day 2016 is still more than 1,000 days away, the survey shows Clinton benefiting from the same demographic trends that helped propel President Barack Obama to win the election in 2008 and re-election in 2012.

Clinton leads Christie among African Americans (83 percent to 4 percent), respondents ages 18 to 29 (45 percent to 31 percent) and Latinos (44 percent to 33 percent).

Clinton also holds the advantage with residents from the Northeast (52 percent to 35 percent), West (43 percent to 30 percent), the South (43 percent to 35 percent) and Midwest (41 percent to 37 percent). And she has a narrow edge among independents (39 percent to 35 percent).
The blowout victory, and attendant flurry of presidential talk, almost seems to have hurt Chistie, who polled within five points of Clinton in the most recent PPP poll. If there's good news in this poll for Christie, it's that some Republicans are coming around to the idea of having a shot at winning in 2016. While he just tied Rand Paul in that PPP poll, NBC 's poll has Christie with a slight lead over the entire rest of the GOP field, bu not in the all-important Midwest:
Following his resounding re-election victory last week, 32 percent of Republican and Republican-leaning respondents say they would vote for Christie in a GOP presidential primary, while 31 percent prefer another Republican candidate.

…There's also a striking geographical divide: A majority of Northeast Republicans (57 percent to 22 percent) say they would support Christie in a GOP primary.

But pluralities of Republicans in other parts of the country prefer another GOP candidate – in the Midwest (by 35 percent to 30 percent), the South (29 percent to 27 percent) and the West (40 percent to 22 percent).
Of course, it's early, and there are still plenty of voters undecided, but if Christie can't get a bump out of a whopping reelection, and can't even out-poll Hillary Clinton in his own home state the night he's winning that blowout election, this is going to be some rough sledding for Republicans, because he's the best they've got.
[photos via Time]
Have a tip we should know? tips@mediaite.com