Christie's Office Denies Mediaite Hoboken Records Request Citing 'Numerous Investigations'
The week before Mayor Dawn Zimmer (D-NJ) alleged that Gov. Chris Christie (R-NJ) tried to extort her into approving a development deal in exchange for Hurricane Sandy relief funds, I placed an Open Public Records Act request for documents and emails related to Hoboken's relief funds, and to Mayor Zimmer. Friday evening, the governor's office denied my request, citing, among other things, "numerous investigations from other entities, including state and federal authorities."
The letter quotes my request for "emails and other communications originating from, or going to, the Governor's office regarding the disbursement of funds related to Hurricane Sandy to the City of Hoboken, and any other such documents that reference Mayor Dawn Zimmer from the period between November of 2012 and December of 2013."
The response reads, in part:
"Please be advised, the subject matter of your request is the focus of numerous investigations from other entities, including state and federal authorities. In addition, this office is in receipt of many such similar requests. Despite diligent and good-faith efforts, this office has yet to complete its comprehensive search for documents responsive to these many requests, including but not limited to an intensive review of voluminous electronic documents. Also, we are cognizant of certain state statutes including, but not limited to, N.J.S.A 47:1A-3a and N.J.S.A. 47:1A-9 that pertain to public access to records related to an investigation in progress. Based upon the foregoing, we are unable to make records available at this time, but we will continue to work diligently and will provide a further response to your request as soon as possible."
The statutes cited in the response state that records related to an ongoing investigation "may be
denied if the inspection, copying or examination of such record or records shall be inimical to the public interest," and that it is the government's burden to prove that such a release would be inimical to the public interest.
The Star Ledger reported, Friday evening, that the City of Hoboken has received a subpoena from the U.S. Attorney's office, but the letter from the Christie's office would appear to confirm that the U.S. Attorney and the New Jersey state legislature are also seeking documents related to Mayor Zimmer's allegations from the governor's office.
Here's the full response from Governor Christie's office: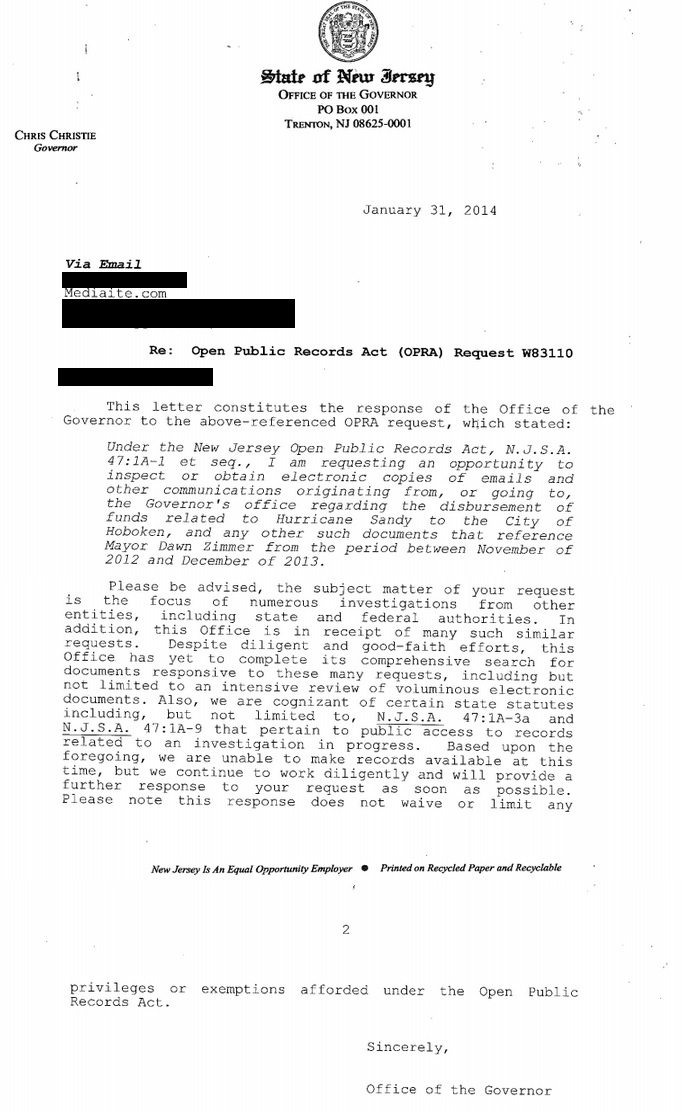 Have a tip we should know? tips@mediaite.com