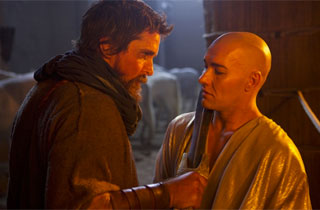 During a press conference for his upcoming movie Exodus: God and Kings, Christian Bale stunned reporters when he called his character, Moses, a "mercurial" man.
"I think the man was likely schizophrenic and was one of the most barbaric individuals that I ever read about in my life," the British actor said last month, according to Christianity Today.
Bale said that, during his preparation for the Ridley Scott movie, he was surprised at what he'd found during his studies of the prophet and marveled at his complexity. "He's a very troubled and tumultuous man who fought greatly against God, against his calling," he added. "But the biggest surprise was the nature of God. He was equally very mercurial."
Naturally, Bale's interpretation of Moses as a violent schizophrenic has many Christians worried about how Scott's movie is going to interpret the Exodus:
Peter Chattaway at Patheos.com is troubled by the very idea Bale "speculates about what was going on inside Moses' head". Meanwhile, Faith Driven Consumer has commissioned a poll which appears to show that 74% of Americans would be likely to see the film if it was biblically accurate, but 68% would be unlikely to watch it were it inaccurate.
Scott, who sacrilegiously interprets the parting of the Red Sea as the result of an earthquake dismissed concerns about whether he had some sort of political agenda: "People can do that if they want to be really negative or just sit down and enjoy the fucking movie. It's a movie!'"
The movie comes out in December, and according to the trailer below, may or may not be wholly biblically accurate:

[The Guardian]
[Image via Allstar/20TH CENTURY FOX/Sportsphoto Ltd.]
—
>> Follow Tina Nguyen (@Tina_Nguyen) on Twitter
Have a tip we should know? tips@mediaite.com