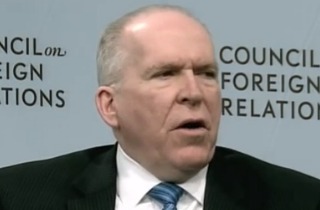 Democratic presidential candidate Hillary Clinton isn't the only top government official who used her personal email account for work-related matters. At least, that's according to a New York Post interview with the alleged hacker described by the paper as "a stoner high school student."
A rather sensitive document, a 47-page application for top secret security clearance filled out and submitted by Brennan, was among the materials the unnamed hacker discovered in Brennan's account. Other materials nestled among the account's email history:
Contained the Social Security numbers and personal information of more than a dozen top American intelligence officials, as well as a government letter about the use of "harsh interrogation techniques" on terrorism suspects, according to the hacker.
The supposed hacker, who also gained access to a Comcast email account owned and used by Jeh Johnson, U.S. Secretary of Homeland Security, described himself as an "American high school student who is not a Muslim." He never divulged his identity to the Post, though he did confirm that he was operating a certain Twitter account that had been boasting about the hack.
Whether or not the hack is real remains to be seen, as both the CIA and the Department of Homeland Security have turned the matter over to the FBI. "We are aware of the reports that have surfaced on social media and have referred the matter to the appropriate authorities," said the CIA in a statement.
Early indications suggest that this domestic hack is nowhere near as severe as Clinton's use of a personal email account to handle reportedly classified materials relating to her work at the State Department. Even so, considering that their potential hacking could have been "lethal," let's at least be happy she used Gmail instead of AOL and Comcast.
Check out the clip above, via CNN.
[h/t New York Post]
[Image via screengrab]
— —
>> Follow Andrew Husband (@AndrewHusband) on Twitter
Have a tip we should know? [email protected]