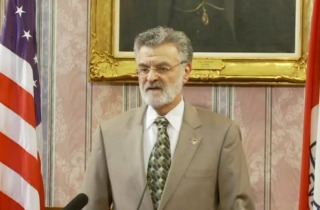 Cleveland Mayor Frank Jackson apologized on Monday for the city's "very insensitive" reaction to a wrongful death lawsuit filed last December by the family of 12-year-old Tamir Rice, who was fatally shot by police last November.
In reaction to that lawsuit, the city on Friday released a 41-page report that blamed Rice for his own death, saying his injuries were "directly and proximately caused by the failure of Plaintiffs' decedent to exercise due care to avoid injury" and Rice's "injuries, losses, and damages complained of, were directly and proximately caused by the acts of Plaintiffs' decedent, not this Defendant."
Rice, if you'll recall, was shot and killed by a Cleveland police officer who thought the toy pellet gun the boy was carrying was a real one. Timothy Loehmann, the officer who fatally shot Rice, was deemed "unfit" for service back in 2012.
Jackson admitted at a Monday press conference that the city's remarks were "very insensitive" to Rice's family, and told reporters an amended response to the lawsuit would be released soon:
"In an attempt to protect all of our defenses, we used words and we phrased things in such a way that was very insensitive. Very insensitive to the tragedy in general, the family, and the victim in particular. It is not part of the character of the city of Cleveland and this administration. So we are apologizing today as a city to the family of Tamir Rice and to the citizens of the city of Cleveland for our poor use of words and our insensitivity in the use of those words."
In December, the Department of Justice released the results of an investigation claiming Cleveland police officers routinely use excessive and unnecessary force.
Watch the video below, via Fox 8 in Cleveland:
[Image via screengrab]
— —
>>Follow Andrew Desiderio (@forza_desiderio) on Twitter
Have a tip we should know? tips@mediaite.com