Cliff Schecter Decimates Disgraced Tea Party Leader's Foreign Policy Talking Points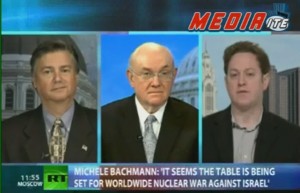 Mark Williams, the Tea Party Express organizer best known for writing a letter to Abraham Lincoln on behalf of "colored people," is apparently still someone who gets asked about things. In a recent appearance on RT America's Crosstalk, Williams held forth on how Republicans loosened the jar for President Obama on Libya and Osama bin Laden, and what great friends they are to Israel. Luckily, liberal blogger Cliff Schecter was there to set him straight.
Williams is the former chairman of the Tea Party Express, which, despite having been discredited within the Tea Party community, continues to be granted legitimacy by the mainstream media. The group even co-sponsored a Republican debate with CNN in September. Mark Williams' website boasts that he is "Proud to be a Tea Party 'Terrorist'… er, "Hobit(sic)!"… um, 'Barbarian!'"
In his Crosstalk appearance, Williams trots out the garden variety talking points that Republicans use to try and diminish President Obama's key foreign policy successes, insisting that his actions regarding Libya and the killing of Osama bin Laden were simply the culmination of Republican policies. Schecter ably rebuts that thinking by reminding Williams of how conservatives like to credit Ronald Reagan with single-handedly ending the Cold War, and of George W. Bush's "Mission Accomplished" victory dance over Iraq, nearly a decade too early. He also criticized the President for trying to work with Republicans, despite their steadfast recalcitrance.
More interestingly, though, Williams later trots out the popular conservative meme that President Obama is "not a friend to Israel," and that he has "thrown Israel under the bus."
This is a theme that has been heavily abetted by the mainstream media, most effectively through repetition of the lie that President Obama advocated a "return to the 1967 borders" as a condition of an Israel/Palestine peace deal. While the Libya and bin Laden narratives are unlikely to gain any traction with voters, the campaign of misinformation about Israel could actually have some resonance with voters.
Schecter points out that noted friend of Israel Ed Koch has recently endorsed President Obama's Israel policy, which has received high marks from actual Israelis, and more damningly, challenged the notion that the Tea Party can lay any claim to friendship with Israel. Citing a recent Bloomberg report, Schecter reminded Williams that "(The Tea Party's) big funders, the Koch brothers, has been using subsidiaries in Europe to trade with Iran against our embargo."
"It was the Reagan administration that helped arm Iran," Schecter continued, "it's the Koch brothers that are trading with Iran. Frankly, if the right would stop doing business with Iran, maybe they wouldn't be as strong as they are right now."
Here's the video, from RT America's Crosstalk:
Have a tip we should know? tips@mediaite.com