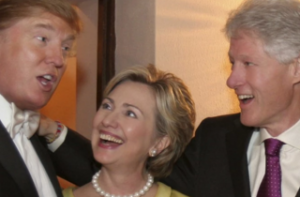 The National Archives released an announcement that the William J. Clinton Presidential Library will soon be publicly dumping almost 500 pages of information on Donald Trump. All of this has been made possible by a Freedom of Information Act request.
Some of the information will be benign. There is an autographed copy of one of Trump's books, for instance, and a photo of Trump with Bill Clinton. It is just that relationship that makes the documents interesting, though: Republicans will be eager to get their hands on anything that links Trump to the Clintons.
As Sarah Palin mentioned last night in her speech endorsing Trump for president, his detractors are always saying he isn't "conservative enough." Palin scoffed at this, but Trump's past — especially his brief presidential bid in 1999 — lends itself to the idea that his conservatism is more contrived than he wants the public to think. The documents from the Clinton Library will detail meetings held between Trump and Clinton as he got ready to run on the Reform Party's ticket. Further, a much more recent discussion, held between the former president and the real estate mogul in 2015 just before the latter announced his candidacy, will be made public, which could be damning for the campaign, depending on what tone the conversation took on.
The offices of Presidents Barack Obama and Bill Clinton have 60 days to review the involved documents and respond to the FOIA request with either a pass for release or a request for an extension. Assuming a stay is not requested, the documents will be available at the Clinton Library in Little Rock, Arkansas in early April, becoming available online a few weeks after that.
h/t Politico
[image via screengrab]
For more from Lindsey, follow her on Twitter.
Have a tip we should know? [email protected]