Clintons Taking Turns Explaining Family Fortune Only Worsens Their PR Problem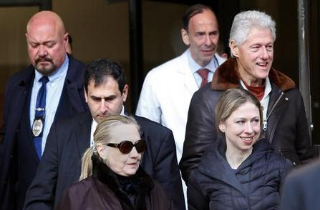 First it was Hillary. Then Hillary again. Then Chelsea. Back to Hillary. And now Bill.
In a bizarre start to their reintroduction tour, the Clintons are all taking turns in playing the role of rookie public figure. Even Chelsea—who reportedly served at the pleasure of NBC News for a cool $600K annually—doesn't get a pass here. They all know how the game is played. All are very accomplished at speaking in sound bites and especially excel at not committing any unforced errors.
The unforced error in question here, of course, is the Clinton insistence of convincing everyone that they're really not that rich, really "not that well off." Whether it's Bill's $100 million-plus made in speeches since leaving office, Hillary's success in the same boat in addition to book deals, or Chelsea making fifteen times as much as those her age working fifteen times harder behind the camera, the former First Family continues to curiously shun their success instead of embracing it.
And just when you thought the money issue was finally, finally behind them after Hillary tripped over herself on three separate occasions (including ABC twice) and Chelsea making the odd statement that she was curious if she "could care about money and couldn't" after her Peacock pay was revealed, here was Bill Clinton today with David Gregory to save the family from further ridicule when asked about his wife's "dead broke" comment:
"It is factually true that we were several million dollars in debt," explained the 42nd President.
From a legalese perspective, that's true. It is also factually true that several millions of dollars in debt can be erased quite easily by any President upon leaving office. Even Clinton's successor—George W. Bush—has commanded $150,000 speech fees despite exiting unpopular and never being regarded as anything resembling a great public speaker. Regardless of party of popularity of a former POTUS, the windfall is always waiting.
The Clintons knew this when leaving the White House in 2001. There were no worries about creditors calling or Chelsea not getting a good education: Mrs. Clinton had an $8 million book deal waiting. Bill—who possessed the rare and lucrative combination of being both controversial and popular—had another $9 million in speaking engagements in '01 waiting as well. The family purchased two homes—one in coveted Westchester County in New York, the other in Washington across from the British Embassy. All of this information can be found with one simple Google search. It's out there. Yet the Clintons want to convince you that they feel your pain. As Ron Fournier of National Journal advised via Twitter this afternoon when Bill's "definition of the word 'is' is" 2.0 moment went viral: "Stop. Please, just stop."
Charles Krauthammer nicely summed it up Hillary's difficulty in explaining her membership in the richest one percent:
"Her problem is not wealth, it's sincerity. Does anybody imagine Hillary burns for anything for the middle class, for gay rights?" He continued, "The Clintons have been motivated throughout their lives by the wish to rise and acquire power- that's how they are and that's why she's stumbling over herself on the wealth issue."
The Clintons should be so much better than this. Seasoned pros. Meticulous prep. No unforced errors. No amateur hours. Diane Sawyer got the first crack at Hillary on her book/media tour. She asked a question around wealth Mrs. Clinton never saw coming.
And ever since then, each Clinton has broken the golden rule of politics:
"If you find yourself in a hole, stop digging."
[Image via Reuters]
— —
>> Follow Joe Concha on Twitter @ConchaMedia
Have a tip we should know? tips@mediaite.com