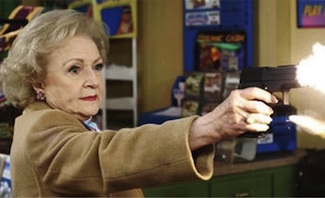 Boozy grandmas: where would we — nay, the American entertainment industry — be without them? In a thought-provoking meditation, CNN.com explores the monumental and possibly somewhat made-up trend of alcohol-fueled grandmothers suddenly pervading TV and movies.
What does the boozy grandma trend mean? You know, in sociological terms that say something about our society?
You've got to give CNN.com some credit for the loopy lede: "In the same way a Christmas playlist is incomplete without a tipsy, eggnog-drinking grandmother having an unfortunate accident with reindeer, the melodrama of certain shows and films improves when a boozy grandmother is written in." Who would bother with a Christmas playlist if it didn't involve a tipsy, eggnog-drinking grandmother having an unfortunate accident with reindeer?
But that's all mere prelude: the rise of the boozy grandma is symptomatic of our shift as a culture towards an acceptance of more free-spirited (for instance, boozy) older female figures (such as grandmas), who are not doing things such as knitting. Also, "drunk grandmothers are nearly always wealthy, white and cruelly witty, with poor parenting skills."
81-year-old author Mary McHugh, who sounds like a good time, breaks down the deeper meaning of the boozy grandma:
While their alcohol-induced shenanigans are obviously trumped up for comedic effect, the idea of a grandmother who's independent, technologically savvy and having fun isn't the foreign notion it used to be, said Mary McHugh, the 81-year-old author of "How Not to Become a Little Old Lady." McHugh herself has spent her post-child-rearing years traveling the world.

"When people think of a grandmother, their eyes glaze over. But now, many of us are doing things we love doing. We're not sitting somewhere and rocking in a rocking chair," said McHugh, who herself enjoys a glass of wine or two to cap off her evenings.
Have a tip we should know? tips@mediaite.com