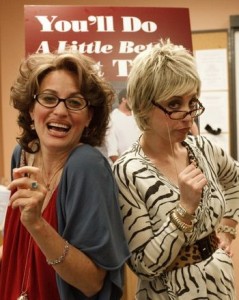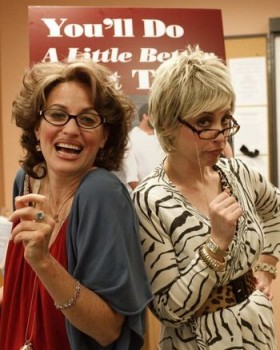 When people like Rainn Wilson, Mindy Kaling, Paul Feig, Rob Corddry, Paul F. Tomkins, Joel Stein, Rob Riggle, Diablo Cody and Jenji Kohan say your schtick is funny, then it's pretty safe to say it's funny. But will saying that — and tweeting it, and Facebooking it, and YouTube-ing it, and emailing them on the computer — get that schtick picked up? For the last week, creators of "Ronna & Beverly," a new pilot for Showtime that wasn't picked up but got a last-ditch airdate, have been doing their best to find out — with a little help from their online friends.
Today the WSJ's Katie Rosman wrote that "Ronna & Beverly" "might be the most buzzed about television show … never actually to become a television show," and who knows, that might be true — despite many a media and social media impression over the past week, Showtime thus far has declined to release ratings information indicating whether the buzz is translating to eyeballs. Tonight Ronna & Bev get one more kick at the can with a 12:05 a.m. airdate on both coasts — and if the ratings are persuasive enough, we could be looking at a test case for the impact of newfangled social media on that most old-fashioned of platforms: TV.
I've written about "Ronna & Beverly" a few times now, not only because I know creators Jessica Chaffin and Jamie Denbo (disclosure) and not only because I like it (disclosure?) but because I am watching this as a potential test case. Just over a week ago, Ronna & Beverly, both pilot and act, was known IRL in amongst the UCB and Funny or Die crew in New York and LA, and certainly to Showtime execs, but their web presence was not anything to kvell about. Cut to now, when they've buzzed their way into the Twitstreams of some high-octane tweeters like million-plus follwer club members Kaling, Feig, Stein, Sarah Silverman Show's Steve Agee and newly-minted member Riggle, plus the FOD and UCB community. It's gotten them buzz in Variety, the WSJ, Jezebel and on this site — and so if the numbers reflect that, why wouldn't Showtime pay attention? (Check out clips from the pilot here and here — they are clearly not budgeting for high-octane explosions, though the lox budget may creep up there.)
If it does, then that will be a first: A pilot getting picked up specifically because of a vocal, active online audience. Think of what Chuck had to do to hang on (though admittedly the budget there is a lot more extreme). "Ronna & Beverly" have hit this point just when Twitter is blowing up (and other social media, but Twitter's the biggie here) — remember back in April when it was such a big deal that Ashton Kutcher hit a million followers? Less than a year later the million-member club has 203 members (you just made it, Cory Booker! Welcome!) and the network(s) is (are) growing ever day. On the flip side, TV is now nichified like never before, and what counts as a decent audience share for a show on Showtime is very different than on network (the season finale of Dexter smashed Showtime's ratings records with 2.6 million viewers — meanwhile, 5.3 million makes Heroes seem like a flop — but Californication's series high was 1.1 million, and United States of Tara debuted with 881,000 viewers a year ago (headline: "Showtime scores high ratings with United States of Tara"). It remains to be seen, of course, if a 1.1 million audience on Twitter can translate to a 1.1 million audience on Showtime — but it seems to me like those numbers are getting awfully close to each other.
Lucky for Ronna & Bev, they're meeting in the middle at a rather fortuitous time. Whatever happens with "Ronna & Beverly" — and I hope it gets picked up because I frankly need more dating advice like "Do you want to be honest or do you want to be married?" — it's starting to see pretty clear that they are hitting the sweet spot of the intersection of TV and social media like never before. Between the support from the online comedy community (and, as I have said before, never mind the Jews — Ronna & Beverly may not yet be ready for a panel at Comic Con, but oy can't you just see them at B'nai Brith or Hadassah?), the growing buzz and the fact that Showtime just upped its subscriber base to 17.5 million, it actually seems like a pretty safe bet. Throw in how cheap it is to make, its pedigreed team and the fact that it's good, and I don't know why Showtime wouldn't jump.
If they do, though, you can bet that a whole lot of TV execs will suddenly start paying a lot more attention to Twitter. We'll see what happens, nu?

Second Chance For A TV Pilot — And That's Where The Internet Comes In [Mediaite]
"Ronna and Beverly": How the Showtime Sitcom Went from Cancellation to Sensation [WSJ]
New, scripted series boost cable ratings [Variety]
Ronna & Beverly: First Look (NSFW) [Mediaite]
Have a tip we should know? tips@mediaite.com