CNN Deletes Tweet After Colorado Anchor Slams Them for Referring to Unverified 'Serial Killer'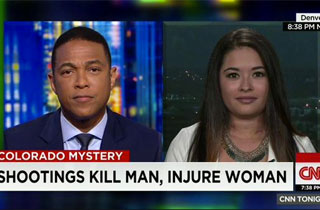 A Colorado news anchor managed to play Twitter ombudsman for CNN last night after they erroneously referred to a shooting suspect as a "serial killer" in a deleted tweet.
Earlier that day, CNN Tonight tweeted out an link to Ana Cabrera's coverage of a series of random highway shootings in Colorado, one leading to the death of a bicyclist on the side of a rural road. While police are treating this as the work of a potential sniper, CNN jumped five steps ahead and declared the man a "serial killer." (It's important to note that Cabrera's report didn't refer to the suspect as a serial killer.)
That tweet, now deleted, prompted NBC Denver anchor Kyle Clark to call out CNN for their "sensationalism":
Let's recap, @CNN. Numerous unexplained shattered windows. One case was a bullet. Zero deaths. Serial killer? C'mon. https://t.co/ySpEFTqVWs

— Kyle Clark (@KyleClark) May 22, 2015
@WhelanMegan I don't know what's going on. But I know that positing that a serial killer is on the loose is irresponsible.

— Kyle Clark (@KyleClark) May 22, 2015
I have nothing against @cnn and @AnaCabrera is a fine anchor/reporter. But that crossed a line. Facts matter. https://t.co/zKbkqnEvWp

— Kyle Clark (@KyleClark) May 22, 2015
The only people linking John Jacoby's death to the I-25 windows at this point are speculating reporters. https://t.co/F1ga3mgHKC

— Kyle Clark (@KyleClark) May 22, 2015
If, God forbid, we ever have to warn Colorado about an actual serial killer, we'll need every ounce of credibility the media can retain.

— Kyle Clark (@KyleClark) May 22, 2015
Cabrera quickly notified CNN of their error, and the show soon issued a correction on their Twitter account, noting that they should have referred to the man as a "serial sniper". Clark applauded Cabrera for quickly correcting the record.
That said, his earlier prediction is probably, sadly, true:
What have we learned?

1) Facts matter
2) Many of you care deeply about responsible journalism
3) I'm never going to get hired at @CNN

— Kyle Clark (@KyleClark) May 22, 2015
[h/t The Blaze]
[Image via screenshot/CNN Tonight]
—
>> Follow Tina Nguyen (@Tina_Nguyen) on Twitter
Have a tip we should know? tips@mediaite.com