CNN iReporter Calls Century Eggs "Disgusting," Chinese Company Demands CNN Apologize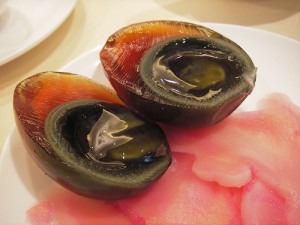 You know the saying: one man's trash is another man's treasure. Our eating choices are just as subjective. What tastes good to us might be disgusting elsewhere, and vice versa.
Last month, CNN asked random people (a.k.a. iReporters) to share their experiences eating all sorts of "revolting" foods, and listed them in no particular order. The list included such yummy morsels as dog meat and stir-fried cicadas. Mmm… cicadas. The dish that made the top of the list was a Chinese dish called "century eggs." The food was submitted to CNN by iReporter Danny Holwerda, who described the food on his blog as "THE STUPIDEST MOTHERF*CKING THING I HAVE EVER PUT IN MY MOUTH."
CNN described century eggs as "a pungent appetizer served with pickled ginger, or cooked in congee," and allowed Holwerda to elaborate:
"It's awful — it tastes like the devil cooked eggs for me," said Holwerda. "It tastes like something that used to be an egg, but made some really horrible choices."

"I'm actually in the middle of a month-long project for my blog. There have been some memorable ones so far, but none as awful as century eggs."
This, apparently, upset CNN's Chinese readers, who flooded the comments section en masse accusing Americans of not being adventurous eaters and claimed racism because, for whatever reason, all the foods on the list came from Asian countries. A few commenters also pointed out that despite tasting disgusting, the foods on that list are much healthier than most of what Americans consume. One commenter summed it up thusly: "Dumb Americans, just go home and be fat already."
Now the biggest food manufacturer in China is demanding CNN apologize for referring to century eggs as "disgusting." The Hubei Shendan Healthy Food Company sent out a letter on behalf of its employees saying that CNN's report was done "in an unscientific way" and it illustrated that CNN was exposing its "ignorance and arrogance, as well as a complete lack of respect for cultural traditions in other countries." (But fried cicadas?) They also claim that century eggs contain 20 percent less cholesterol than normal eggs.
A day after the initial report was published on CNN's website, Howlerda wrote a blog post titled "Welcome, international friends!" and apologized to anyone who thought he was disrespecting the Chinese culture. He added that he has enjoyed many other traditional Chinese foods and hopes to go to China in the future.
CNNGo's editor-in-chief, Andrew Demaria, posted his reaction to all the criticisms of the initial piece, and made sure to clarify that the foods were submitted by iReporters and CNN wasn't directly calling these foods disgusting. (Still, fried cicadas?) He adds that he personally finds century eggs delicious (sure you do…), but he finds the "online vilification and death threats" directed towards Howlerda just a little excessive for his opinion of an egg. Finally, Demaria offers up the mea culpa:
We apologize unreservedly for any offense the article has inadvertently caused.
Luckily, CNN is currently working on an iReport piece listing the world's 100 most delicious foods, so perhaps they might make up for offending all of Asia by listing some traditional dishes that even Americans enjoy.
Have a tip we should know? tips@mediaite.com
Josh Feldman - Senior Editor