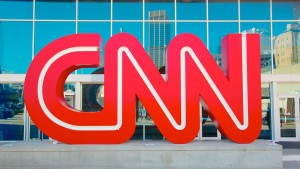 It seems like somebody over at CNN Politics is hearing footsteps from the new media kids on the block, and wants them to get off their lawn. In a new press release, the network touts its online offerings as the "#1 Source For Political News," but with the damning subheading "Huffington Post Pads Traffic, Fails To Manipulate Ranking."
Their main complaint is that HuffPo "deliberately misrepresents" non-political content as political, which placed them in a tie with CNN for first place:
CNN Politics ended the year with a bang, earning 25 million multiplatform unique visitors for the month of December 2015 — the most current data released by comScore. The traffic places CNN Politics in a tie for first in its category with HuffPost Politics, a site that relies on a monthly boost of 6M+ unique visitors from a decidedly non-politics entity titled "Good News." Deliberately misrepresented by the Huffington Post as politics content for the purpose of comScore traffic rankings, Good News is a hodgepodge of posts about breastfeeding in bars, shelter chihuahuas and a mini donkey with a prosthetic leg.
Now, I'm the first person to acknowledge that breastfeeding in bars is a political issue if ever I've seen one (depending on who is being fed, of course), and I don't know why CNN had to throw shade at our already put-upon disabled miniature donkey community, but they've kind of got a point. If HuffPo really wanted to cover itself, they could simply end every post by joking "Does Obamacare cover that?"
On the other hand, If you're going to use Comscore numbers, then you've got to accept their rules, which they say HuffPo isn't violating. You also have to consider the considerable traffic they lost credit for during all those months they haughtily decided to keep Donald Trump in the entertainment section.
The bottom line, though, is that CNN actually is feeling the footsteps of the not-so-new media these days. Not long ago, Joe Concha reported on how The Young Turks are crushing it in the Comscore rankings, including beating CNN in Desktop Unique Viewers aged 18-24. That prospect, and HuffPo's ability to close in with or without the "padded" traffic, is either a  dream or a nightmare, depending on how you feel about a huge media company having its lunch eaten online. Neither The Young Turks nor HuffPo has an immense television mothership to promote its content 24 hours a day.
When asked for comment on this story, Republican frontrunner Donald Trump promised to build a "beautiful wall" to keep out shelter chihuahuas.
This is an opinion piece. The views expressed in this article are those of just the author.