CNN Reports On Toddlers Killed In Bombing Of Syrian Village (WARNING: Graphic Content)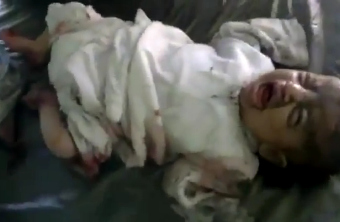 On Tuesday's edition of CNN Newsroom, host Brooke Baldwin broke the news of a Syrian government artillery shelling on the village of Anadan in the Aleppo countryside, as part of the government's crackdown on dissidents. She then aired footage that depicts several unidentified children severely mutilated by the shelling.
A United Nations report released today says that "children as young as nine years of age have been victims of killing, maiming, arbitrary arrests, detention, torture, and ill treatment including sexual violence and use as human shields," Brooke said.
She then warned the audience that CNN has obtained graphic video this morning that "illustrates the atrocities occurring each and every day in Syria's brutal war."
CNN opted to edit portions of the video out, and what remains is footage of two clearly wounded toddlers writhing on a table as men struggle to tend to their wounds. Baldwin reported that two of the children, a man, and a woman died as a result of the shelling.
Check out the segment with edited footage, below via CNN:
It turns out that the edited portion CNN elected to air is a snippet of a minute-long video which was posted to YouTube this morning by multiple Syrian activist groups.
The full video shows a crying toddler with his or her foot clearly mangled by the shelling, and several man panicking, crying out "Oh, God" and calling for bandages to be placed on the child's head.
The footage also shows a deceased male toddler underneath a blanket, with a gaping wound to his head. The men debate whether to send for the boy's family immediately.
You can watch the full, unedited video below, but be warned — this is quite graphic, heartbreaking, and certainly not for the faint of heart:
Have a tip we should know? tips@mediaite.com