Hillary Clinton's Gay Pride Month Message: 'We Will Not Rest Until Equal Rights Are A Reality'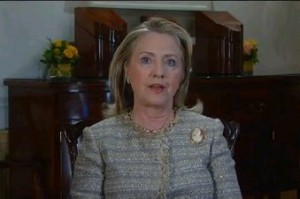 The Obama administration further demonstrated its commitment to upholding LGBT rights with a video message by Secretary of State Hillary Clinton, released Tuesday. Clinton's statement came on the heels of President Obama's proclamation of June as "Lesbian, Gay, Bisexual, and Transgender Month."

–RELATED: Hillary Clinton Tells Geneva that 'Gay Rights are Human Rights'
The message is the latest in a series of addresses by Clinton over three years in support of Pride Month and the LGBT community. Her last significant address on the subject took place in Geneva last year during Human Rights Day, where she declared that "gay rights are human rights, and human rights are gay rights." During the two-and-a-half minute video, Clinton elaborated on the importance of freedom and equality for all. Additionally, she commented on the progress the international community has made in fighting for LGBT rights.
"In the United States and around the world, progress is being made," said Clinton. "The tireless advocacy of generations is bending the arc of history. Barriers are being torn down, discriminatory laws repealed, and millions are now able to live more freely and participate in the future of their communities and countries."
However, Clinton also warned that there is still room for improvement. "Gay, lesbian, bisexual, and transgender men and women continue to be persecuted and attacked," she stated. "They are arrested, beaten, tortured, and even executed."
But the Secretary of State also reiterated her high hopes for the future, citing the continuation of a "concerted effort" by the international community as the key to combating discrimination against LGBT individuals.
Watch Clinton's message below:
Have a tip we should know? [email protected]