CNN Reveals Shocking New Poll Results: Most Americans Think Things Are Going Well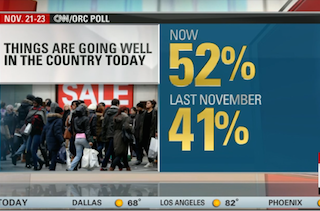 Here's some surprisingly good news for your Black Friday morning. A new CNN/ORC International poll has found that for the first time since 2007, a majority Americans say things in the country are going "well." While 52% answered positively to that question this year, last November it was at just 41%. Just two months ago, the nation was split 50-50.
In the latest version of the poll, 44% think the country is going "pretty well" while just 8% think it's going "very well." That's compared to 33% who say "pretty badly" and 15% who say "very badly." The last time a majority of Americans fell on the positive side in this poll was nearly eight years ago in January of 2007 when it was 57% positive and 42% negative.
As for the most negative the country has ever been in this poll, that moment came in November 2008, immediately following both the financial crisis and President Barack Obama's first presidential victory. At that point just 16% thought things were going well and 83% thought otherwise.
In addition to the overall positive feeling, poll respondents were also more likely to say the economy is headed for recovery than those who believe it is still in a downturn. 32% agreed that the economy is "starting to recover from the problems it faced in the past few years." 41% say it "has not started but conditions have stabilized and are not getting any worse." And 26% say it is "still in a downturn and conditions are continuing to worsen."
This marks the first time during the Obama administration that either poll question has swung in the positive direction. See the full poll results here (PDF).
Watch John Berman report the news below, via CNN:
[Photo via screengrab]
— —
>> Follow Matt Wilstein (@TheMattWilstein) on Twitter
Have a tip we should know? tips@mediaite.com