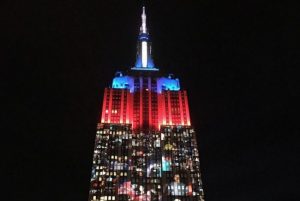 Once again, CNN and CA Technologies have linked up with an unexpected partner to make the election more interesting. First, it was a joint project between CNN, CA Technologies, and Facebook and Instagram called #MyVote, which involved a tricked-out bus traveling from city to city to give the unheard voters a chance to speak out. Now, for the grand finale of the #MyVote project, they're aiming higher — literally.
If you've been watching cable news coverage tonight, you've probably noticed some sweeping shots of New York City that show off the Empire State Building. Since 8:00 p.m. EST, the building has been featuring "a breathtaking display of photography, real-time election results, maps, voter mosaics and animations to commemorate one of the nation's most significant elections."
For the rest of the night, the Empire State Building will be covered in the projections. Ultimately, the show will end when the newest President is announced. The building will light up accordingly.
Here's one of the coolest parts, courtesy of CNN:
The projections will feature Instagram images uploaded by voters from around the nation using the #MyVote hashtag. #MyVote projections will also be featured at the Newseum in Washington, D.C. and Miracle Mile in Las Vegas. Additionally, as part of the #MyVote tour, the Coit Tower in San Francisco will be lit up in either red or blue lights symbolizing the state's choice for America's next president.
Here it is in action:
If you're in New York and feeling a little bit too anxious just sitting on your couch and watching results pour in state by state, head over to Madison Square Park to get a commemorative frame and see the display live and up close.
[image: Instagram]
Have a tip we should know? tips@mediaite.com