CNN's Angela Rye Posts Video of Her 'Humiliation' by TSA to 'Fix the System'
Last night, CNN's Angela Rye, who is known for being firm but friendly, posted a video to Twitter that has amassed over 4,000 retweets and will absolutely be getting more. In the video, Rye is seen being patted down by a TSA agent at an airport and the security check appears to be very aggressive.
At one point, though Rye is standing in the public space and wearing the sort of dress that would be perfectly at home in an upscale office, the agent appears to attempt to lift her skirt. Rye asserts that her genitals were touched twice at this time. In the final seconds, she looks to be on the brink of tears.
I asked the police officer to film this so I can send to @TSA. I'm hoping my humiliation will fix the system. #TSAVaginaMonologues pic.twitter.com/lypkkcpZCW

— Angela Rye! (@angela_rye) December 16, 2016
Here is a Periscope video from after the screening in which she explains the situation. She said that while she is not a victim of previous assault, she worries what sort of effect that sort of touching could have on one. Her goal is to raise awareness of inappropriate TSA practices because she has a platform to do it.
Obviously, as woman who is a commentator, board member, and CEO, she has a lot of experience traveling; she even has both the TSA Pre-Check and CLEAR service, which are meant to expedite the screening process for those who travel frequently. She said she has only been selected for a screening like that three times.
As opinions and condolences began pouring in on Twitter, she responded to them by sharing context and clearing up misconceptions. She swatted away unsolicited advice and asserted repeatedly that she did not set off any beeps when going through the initial scanner.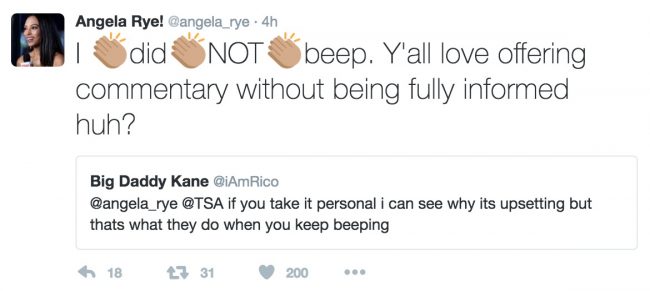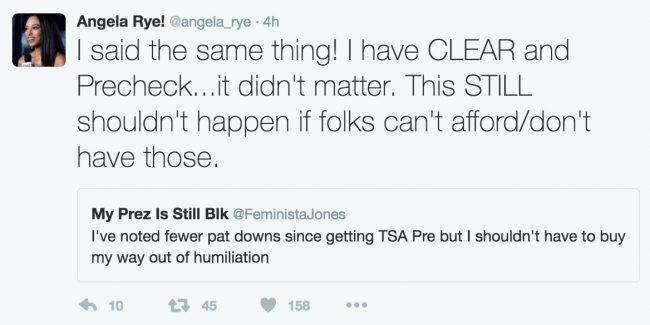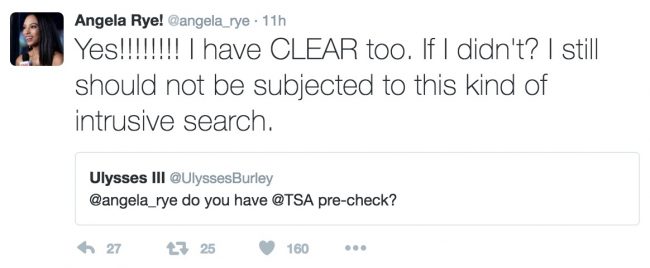 Rye says she has sent the video to the top of the chain of command at the TSA in an effort to get a statement and prevent this from happening to others.
[image: screengrab]
Have a tip we should know? tips@mediaite.com