CNN's Ashleigh Banfield Angrily Demands to Know the Point of Benghazi Investigation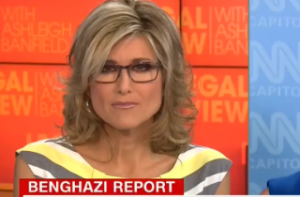 Ashleigh Banfield hosts Legal View on CNN. Yes, view. Those who tune in, then, should never be surprised when she shares her, you know, views.
Lately, she's railed against quite a few things. Notably, she read an abridged version of the Stanford sexual assault victim's letter on television for about 40 minutes of her allotted hour following the lenient sentencing of the attacker, Brock Turner.
Today, she was at it again, expressing her clear annoyance at the Benghazi investigation. See, the House Select Committee on Benghazi released a report today and for all the talk it's generated over the past few years, we didn't learn much. Dana Bash, also of CNN, spoke to ringleader Rep. Trey Gowdy — who is skipping the Republican National Convention, this year — and didn't get much from him, either.
Bash appeared on Legal View today and Banfield let her exasperation show for the second time in an hour.
First, she pointed out that the investigation into Benghazi has gone on longer than those associated with the murder of John F. Kennedy, the 9/11 attacks, Hurricane Katrina and the attack on Pearl Harbor.
"So, what's the headline?" she demanded. "Really?"
Bash replied that Gowdy won't give direct answers or make "a headline" because he provided 800 pages of narrative so that people will read the entire report and draw their own conclusions. Ultimately, Bash still concluded that if there is a "headline," it's all about Hillary Clinton and that even if Gowdy won't admit it, he and his committee spent $7 million in tax-payer dollars to investigate her and find "no smoking gun." Still, she said it is hard to "pin it down into one or two sentences."
"I can pin it down into this sentence," offered Banfield. "$7 million dollars to learn that government is big and bulky. How about that? And you know what? I'm just gonna wrap it up with Trey's own words — Trey Gowdy's own words. You ready? He said this. 'Congress does a lousy job of conducting apolitical, non-partisan investigations and the American people deserve better. There's the headline, Dana! There's the headline from all this. Thank you, Ms. Bash. Good job in there doing the questioning."
Watch above to see Banfield tell us how she really feels and then say that her colleague, Wolf Blitzer, will be interviewing Benghazi committee members in the next hour. Perhaps that's for the best.
[image via screengrab]
For more from Lindsey, try Twitter or Facebook.
Have a tip we should know? tips@mediaite.com