CNN's Richard Quest Hosted the Most Insanely British Interview With Pro-Brexit Leader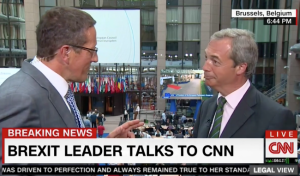 This is simply the most British thing you'll ever see.
Legal View with Ashleigh Banfield took time away from domestic coverage to air a live interview across the pond that featured CNN's Richard Quest and Nigel Farage, the UKIP leader who championed Britain to leave the European Union most vociferously.
And this interview didn't transpire like anything else that's on American cable news. In the most weirdly friendly-aggressive way, Quest absolutely hammered Farage on a wide-range of controversial elements about Thursday's referendum. Farage took the hits blow-by-blow, retaliating in equally abrasive responses, only to have the two men at times giggle their way through what was otherwise very tough questioning about very serious matters.
"You were almost gratuitously rude to the Parliamentarians," Quest opened, referring to Farage's appearance before the EU Parliament earlier where the UKIP leader slammed his peers just days after the referendum. "And you enjoyed it."
"They called me all the names under the sun," Farage noted in his defense. "I teased them for basically being bureaucrats who have never had a proper job."
And since the feed was being seen overseas, you can bet that Quest hit Farage with the accusation that many, many, many people have made: "You are starting to sound — in some way, with the similar policies — like Donald Trump."
Farage took the comparison in stride, saying, "Well, Donald Trump dares to talk about things that people want to brush under the carpet." He noted that while the U.S. may have struggles with illegal immigration, it is legal immigration that has doomed the safety of the British people.
"In many ways, you almost hopes he becomes president!" Quest offered. As for other areas of American politics, Farage didn't hesitate to weigh in on those either:
"There is nothing on earth that can persuade me ever to vote for Hillary Clinton… she represents the political elite. It's almost as if she feels she has a divine right to that job."
With all the wit you'd expect from a two-person comedy sketch out of Fry and Laurie, the 10-minute exchange between Quest and Farage is rapid fire and hits on a ton of different issues. If you're a normal American with even loose familiarity with our cable programming, it's safe to say you've never seen two men abrasively disagree with one another more while looking like they're about to smoke a fag together and take a casual stroll on the green. Watch — and enjoy — the full exchange above from CNN.
—
J.D. Durkin (@jiveDurkey) is an editorial producer and columnist at Mediaite.
[image via screengrab]
Have a tip we should know? tips@mediaite.com