CNN's Chris Cuomo Slams Pro-Life Group For Using Image of Fetus: 'It's a Little Person'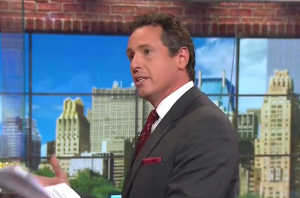 You gotta hand it to seemingly pro-choice CNN host Chris Cuomo: he's got chutzpah.
Cuomo asked the Center for Medical Progress' David Daleiden Wednesday morning about why he used an image of a stillborn fetus in one of their anti-Planned Parenthood videos. The New Day host charged that the use of the image of the 19-week-old fetus– which was not aborted– was misleading.
Daleiden defended the use of the image, saying they only used it "to illustrate exactly the kind of late second-trimester baby fetus that we're talking about in these cases of organ harvesting."
"If you are talking about organ harvesting and the abortions and how terrible they are, why would you use a stillborn fetus, which is not a function of an abortion?" asked Cuomo.
"Do you think the fetuses are different somehow?" asked a bemused Daleiden. "It's the same gestational age, it's the same baby whether it's born dead or alive, whether it's organs are harvested or not."
But Cuomo didn't let up. "It is not a creature, it is not a thing; it is a little person. And the point is, if you want to represent a little person, do it fairly."
"This is such an emotional thing," he continued. "It is so religious for people, it's so moral for people. That baby was not aborted. It matters in the context of your conversation."
Watch, via CNN.
Now as it happens, I find myself somewhere between Cuomo and the Daleiden. I think it was perfectly reasonable to help illustrate how gruesome it is to cut into the head of a 19-week-old fetus by showing a picture of what a fully-formed 19-week-old fetus typically looks like. But it probably should have come with some form of disclaimer, especially when Planned Parenthood defenders can't even mention your videos without adding "deceptive" and "heavily edited" in the same breath.
And I think the entire conversation is a tad pointless, considering there are multiple gruesome videos released by the Center for Medical Progress showing what are undeniably fetuses aborted by Planned Parenthood. No one denies that. Even if we take it for granted that a single image of a fetus was misleading, the organization is still batting a 0.950 or so on that front.
But yes, it really takes juevos to suddenly develop a deep and abiding respect for the human dignity of one particular fetus… but only so you can use it to attack the people who have been championing their rights for years.
[Image via screengrab]
——
>>Follow Alex Griswold (@HashtagGriswold) on Twitter
Have a tip we should know? tips@mediaite.com