CNN's Scottie Nell Hughes Tweets About Privatizing Twitter Because Responses Are Mean
Scottie Nell Hughes was so excited to announce her hiring by CNN in early July. To do that, she released a homemade video that touted a history of being opinionated and outspoken that went all the way back into her childhood. Being loud and proud has always been Hughes' thing, which she demonstrated when she started making the rounds and talking about why she's voting for Donald Trump.
The people at CNN took notice of her ability to draw viewers with her documented opinionatedness, hired her, and expected her to continue being outspoken and brash now that she was, you know, getting a paycheck for it. It's no secret that television personalities — especially women — are harassed and generally torn apart on social media, of course, which CNN and its peers offset by making sure that their biggest names are compensated for putting themselves on the line like that.
People who speak publicly know that even though their platform is bigger, there will still be discourse. They know that their job isn't just to make proclamations and then shut down the opportunities for response. (Well, they should know. Hillary Clinton, we're looking at you here, too.)
That's why this is confusing: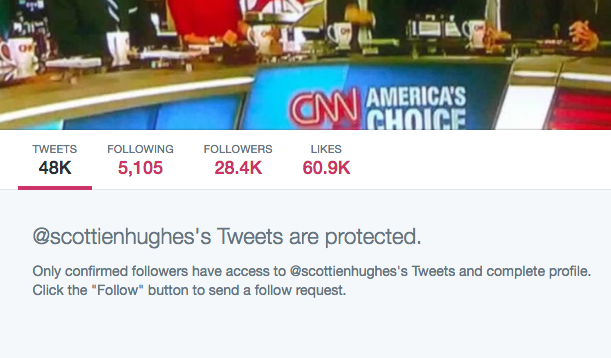 It isn't just confusing that a woman who advertises herself as unapologetically opinionated would shut down the opportunity for so many people to be exposed to her opinions and respond to them. It's also unfair to those who would try to engage her or learn from her.

It is known that the Internet is full of people waiting to anonymously say terrible things to those who express themselves, but it is also known that maintaining an active presence on social media is a key element in having a successful career as a pundit or reporter. Media companies depend on their contributors and partners to direct eyes and clicks to their sites and other personalities' pages. There is no excuse for the abuse so many public figures suffer, but entertaining discourse is part of the job description for those who put themselves in the political spotlight on a 24/7 news channel for a check.
Hughes is not the only public figure to take such action. Andrea Tantaros, a former Fox News host, also privatized after her mysterious disappearance from the network earlier this spring.
Beyond that, it's hard to think of anyone else who is pulling in a check for speaking in public and then going completely dark online after each segment.
[image via screengrab]
Have a tip we should know? tips@mediaite.com