Collins' Coming Out Party A Baby Step: Only An Openly Gay NFL Player Can Be A Game-Changer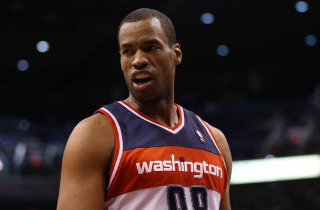 Jason Collins is a brave man.
He's also an historic figure.
As you know by now, the 34-year-old, 12-year NBA veteran is now the first openly gay NBA player. And when the story broke via Sports Illustrated on Sunday, it was assumed it would dominate the cable news and social media landscape for at least two days. Instead, it surprisingly had a very been-there, done-that feeling to it, despite the news being anything but.
The gay community has never had a better year than it has for the past 12 months. President Obama—looking to shore up his base before the election—finally came out in favor of gay marriage. During a press conference Tuesday, he said he was "very proud" of Collins. The likely Democratic nominee in 2016—Hillary Clinton—also recently experienced a change of heart.
Karl Rove says the GOP nominee three years from now also will likely be pro-gay-marriage. FOX News hosts such as Bill O'Reilly and Megyn Kelly support it, stating gays have the more "compelling case" than bible-thumpers. And of course, MSNBC's Rachel Maddow and Thomas Roberts, as well as CNN's Anderson Cooper and Don Lemon, all openly gay, are obviously strong advocates as well. And of course, the Supreme Court is set to make a landmark ruling on gay marriage in June.
Without question, the movement has seized the momentum in politics, media, movies, television and perhaps, perhaps the final, most difficult frontier, sports. And that's why this story isn't bigger than it is: The reaction to Collins has been so overwhelmingly positive from heavyweights of all the aforementioned circles, the story–outside of ESPN curiously issuing an apology after one of its NBA analysts–Chris Broussard–respectfully came out against homosexuality due to his religious beliefs–isn't anything "controversial" (see: no real opposition to book segment debates with) and therefore loses legs on the media front quickly.
In Collins' case, he could either create a domino effect or be left on an island. The money here is on the former. The only question is: Will the dominoes eventually lead to America's most popular entity…the NFL?
Just to put in context how much of a behemoth the National Football League is with the public, chew on this: It's college draft—five months removed from the start of the season—easily gets higher ratings than a NBA Finals game, a World Series game and (not hard) a Stanley Cup Final. The Super Bowl annually breaks its own record as the most-watched program of the year. With $10 billion in revenue per year, nothing comes close to the popularity of the league.
So while the Collins news is groundbreaking, it remains to be seen if it's a game-changer. For starters, Collins isn't the household name like Kobe Bryant or LeBron James. More and more, guys like Kobe and LeBron are seen as celebrities, larger-than-life figures…as much as they are athletes. Outside of NBA geeks like me, no one had ever heard of Jason Collins until this week. And yes, that matters in terms of capturing and holding public attention.
If we're talking NFL, the scenario would be different: A household name wouldn't be needed to make a big splash, only because the dynamic on the field and off is so very different.
That said, another factor is the violent aspect of professional football. With respect to Collins, it would take considerably more guts to come out of the closet as an active NFL player simply due to the increased media scrutiny around the sport (more popular means more press), the number of players on a team roster to get along with (53 as opposed to the NBA's 12), and perhaps most importantly, the ferocious nature of the sport.
But Phil Simms (CBS)—a former quarterback for the New York Giants and one of the most respected members of the sports media—disagrees with that assessment. He tells Brian Kilmeade on his radio show (Kilmeade & Friends) that a gay NFL player would be embraced, not disgraced:
"I've always said our locker room with the Giants….the players were more understanding and forgiving than any other workplace in New York. I know there's a stereotype about athletes, especially football players and maybe basketball players…but I've always found all the athletes to be forgiving, understanding."
Hines Ward, former longtime receiver for the Pittsburgh Steelers, sees a gay scenario in the NFL another way (courtesy of Erik Kuselias' NBC Sports Radio show):
"I don't think football is ready. There's too many guys in the locker room and, you know, guys play around too much. Hopefully one guy comes out of the closet and [will] be comfortable with himself. I don't have anything against a gay football player or a gay person period so if he does, he has support from me. I want people to live their lives for who they are and don't have to hide behind closed doors to do that."
After a year of symbolic victories for the gay community and the movement being accepted on the mainstream radar more than ever before, the world was ready for the Collins announcement on Sunday.
But what everyone is really waiting for now?
The same kind of declaration from someone who wears a helmet and shoulder pads on Sundays…
— —
>> Follow Joe Concha (@ConchSports) on Twitter
Have a tip we should know? tips@mediaite.com