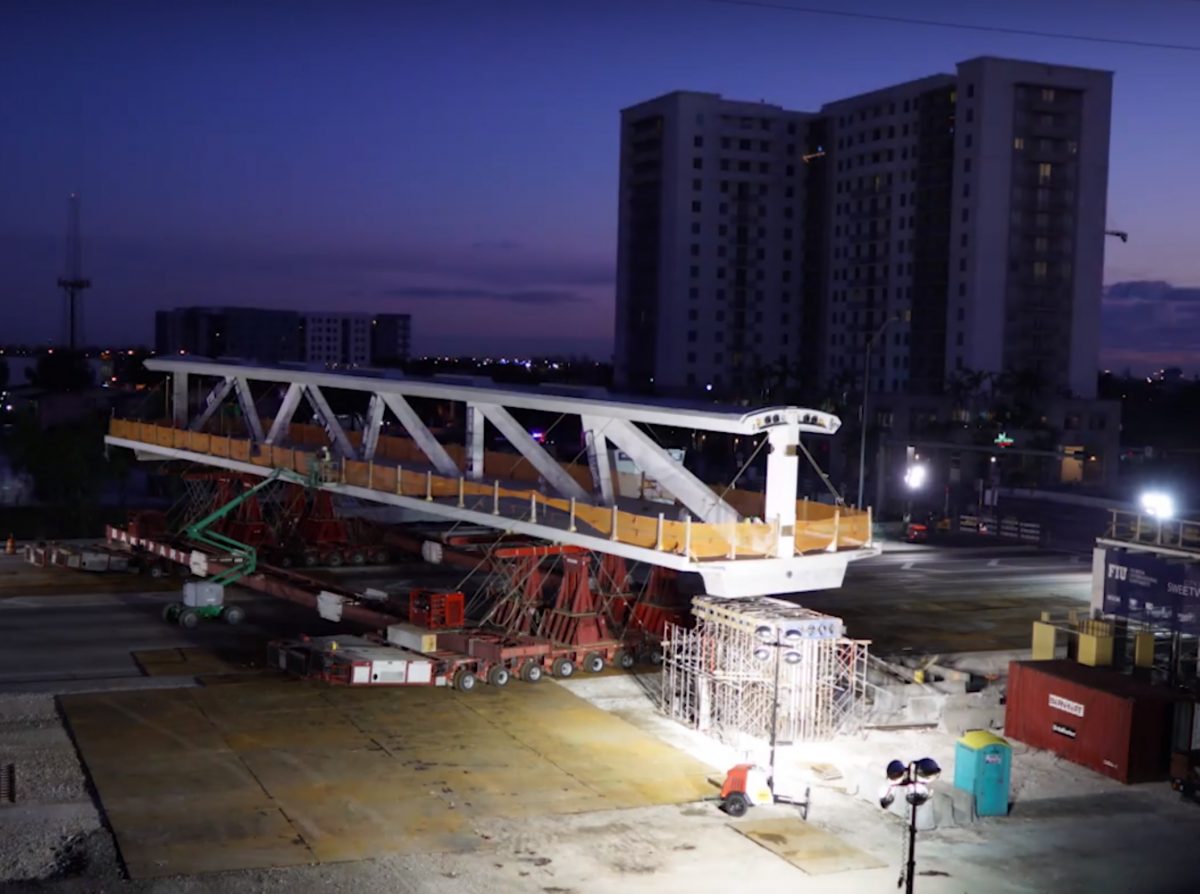 After the collapse of Florida International University's newly-completed pedestrian bridge killed several and injured others on Thursday, two construction companies involved immediately deleted tweets celebrating the "spectacular" structure.
Reporters captured screenshots of the posts before they came down, showing a congratulatory shoutout from BDI Test to Barnhart Crane, a group with whom it said it worked on the project. Wednesday night, less than 24 hours before disaster struck, Barnhart tweeted a PR Newswire story showcasing the bridge's supports.
Here are two deleted tweets about the now-collapsed pedestrian bridge from companies that worked on it, @barnhartcrane and @BDITest, and a deleted press release from @FIU:https://t.co/25p8pI6FIR pic.twitter.com/RONnph9c5u

— Tom Namako (@TomNamako) March 15, 2018
Barnhart Crane company has also now deleted this tweet (but @marygeorgant got a screenshot first) https://t.co/BLnhyJ9b9C pic.twitter.com/Oflvx0V3ZE

— David Mack (@davidmackau) March 15, 2018
#BREAKING: Multiple fatalities reported in @FIU pedestrian bridge collapse. @BDITest just deleted this tweet from 3 days ago in which they said they were "thrilled to have performed structural monitoring" on the project. pic.twitter.com/jQRBb7zdQa

— Billy Corben (@BillyCorben) March 15, 2018
Even more shocking is the tweet that wasn't deleted. At least not yet.
On March 10, FIU posted a statement from its president, Mark B. Rosenberg, who emphasized the school's pride in ensuring the safety of all.
"FIU is about building bridges and student safety," he said. "This project accomplishes our mission beautifully."
First-of-its-kind pedestrian bridge "swings" into place. "FIU is about building bridges and student safety. This project accomplishes our mission beautifully," -President Mark B. Rosenberg. https://t.co/x8gPM9A4DG #worldsahead pic.twitter.com/mPEMeh2zmw

— FIU (@FIU) March 10, 2018
(As of this posting, the press release linked to in that tweet is up.)
First responders are still sorting through the rubble and it remains unknown exactly how many deaths the collapse caused. Miami-Dade Fire Rescue said eight vehicles became trapped beneath the fallen structure, and eight victims were rushed to the hospital, according to ABC.
A team of more than 100 firefighters are continuing to search for additional victims, the outlet said.
[image via screengrab]
Have a tip we should know? tips@mediaite.com