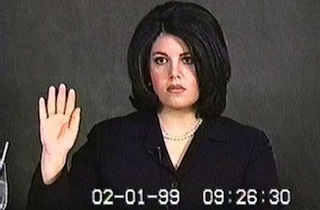 "You make mistakes, but I don't have any regrets. I'm the kind of person who takes responsibility for it and deals with it. I learn from everything I do. I work very hard, I have so many things going on in my life. Get to know me and see who I am."
That comes from one of the classic philosophers of the 21st Century, also known as Kim Kardashian. It is from the ubiquitous Kardashian from whom one Monica Lewinsky could learn a few things.
As you may have heard, the 40-year-old Monica (who achieved one-name status 16 years ago) recently spoke at a Forbes Under 30 Summit in Philadelphia, Pa. During her speech, she lamented that a web publication — the now-powerful Drudge Report — had the audacity to report on her affair with a sitting president more than twice her age while engaging in sexual relations in the Oval Office… because that's not a big story or anything.
From Monday's speech:
But back then, in 1995, we started an affair that lasted, on and off, for 2 years. And, at that time, it was my everything. That, I guess you could say, was the golden bubble part for me; the nice part. The nasty part was that it became public. Public with a vengeance.

Thanks to the Internet and a website that at the time, was scarcely known outside of Washington DC but a website we all know today: the Drudge Report, within 24 hours I became a public figure, not just in the United States but around the entire globe. As far as major news stories were concerned, this was the very first time that the traditional media was usurped by the Internet.

In 1998, as you can imagine, there was a media frenzy. Even though it was pre-Google, (that's right, pre-Google). The World Wide Web (as we called it that back then) was already a big part of life.

Overnight, I went from being a completely private figure to a publicly humiliated one. I was Patient Zero.
Later, she added: "Overnight… I became a completely public figure and first person to have their reputation ruined by the internet."
A few months ago when Monica went public for the first time in a very long time, courtesy of an essay in Vanity Fair, she defended former President Bill Clinton by stating the affair was a consensual one between two grown adults. Happens all the time… I knew exactly what I was doing… I wasn't taken advantage of… it's nobody's business — those were the basic takeaways from the piece.
We all know how it ended for the three people involved in the affair: Mr. Clinton would go on to be impeached but not removed from office, and would exit with approval ratings near 70-percent. Mrs. Clinton would go on to become the Junior Senator of New York, easily beating Republican Rick Lazio. Ms. Lewinsky? Well, she hasn't recovered.
But for whatever reason, she has been more public lately, talking about being the victim, still going on about the affair America absolutely doesn't want to hear about anymore. Was it consensual? Yes. Was she old enough to realize the ramifications of having sexual relations with a married man, who also happened to be the most powerful man in the world? Yes.
Despite this apparent logic, she points the finger at Matt Drudge for running with the story Newsweek decided to pass on. Lewinsky blaming Drudge would be like Richard Nixon blaming his need to resign on Bob Woodward and Carl Bernstein. Or Mark Sanford blaming Gina Smith — the State reporter who cornered the then-Governor of South Carolina at an Atlanta airport and got him to reveal the Appalachian Trail actually extends to Argentina, where he took he his mistress secretly at the time. Or Donna Rice calling out the Miami Herald for exposing her relationship with a married Gary Hart, who may have very well gone on to be the nation's 41st president.
Yup, Monica Lewinsky is where she is today all because of everyone but the former president and herself. Add it all up: Bill is the most popular politician in the country (low bar, though, right?). Hillary — who, according to close friend Diane Blair, once called Lewinsky a "narcissistic Looney Toon" — is likely on her way to the Democratic nomination and the favorite (for now) to win the White House in 2016. And Drudge, despite few resources, has the third-most-popular political site on the web (only Huffington Post and TheBlaze are slightly more read). Monica sees all this and likely wonders where her payoff is.
Ms. Lewinsky received a standing ovation from the under-30 crowd yesterday, who were mostly under 10 years old when the infamous affair began in 1995.
If there's a career out of making yourself a victim for life, Monica could be CEO. But remember, unlike Kim Kardashian who says she learns from her mistakes, she seemingly bears no responsibility, even almost two decades later.
— —
>>Follow Joe Concha on Twitter @JoeConchaTV
Have a tip we should know? [email protected]