Concha: NY Times Piece on Convicted Palestinian Murderer's New Life a Mockery of Journalism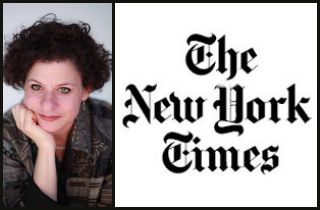 The New York Times is considered the apex of journalism. With a circulation of 1.6 million for its weekday edition and 2.3 million for its venerable Sunday edition (to which this writer subscribes), its influence as "the paper of record" since printing its first edition in 1851 cannot be underestimated.
As the old saying goes, with great power comes great responsibility. And after reading a Sunday front-page piece, "Remaking a Life, After Years in an Israeli Prison" — a gushing, sympathetic (and pathetic) piece on a freed Palestinian murderer named Muqdad Salah — the Times is now only greatly responsible for powerfully embarrassing itself.
Here's the background on why Mr. Salah was sent to an Israeli prison: In June of 1993, he attacked and viciously murdered Israel Tenenbaum — 72-years-old at the time — by taking a metal rod to the side of his head while he was sleeping in the Israeli beach town of Netanya. Very few deserve a death like this, particularly Mr. Tenenbaum, who also happened to be a Holocaust survivor.
After being convicted in an Israeli court and serving 20 years, Salah — who said he committed the murder in protest of Israeli occupation — is now a free man. The early release (his sentence was originally 32 years) is all part of a negotiation reached in American-brokered peace talks. Salah is one of 78 men freed from jail…54 of whom had life sentences.
But in reading the Times piece, never once is the word "terrorist" applied to Salah. But boy…there are plenty of fun pictures right out of a Kardashian press release to go around. First there's the front page feature photo of Salah and his wife on their wedding day. Then there's a sizable photo of Salah hoisted like a Super Bowl winning coach on the shoulders of Palestinians during the reception. But at least the Times was at kind enough to make room for the victim's family, albeit with much smaller photos, including one of the Tenenbaum's wife holding up a picture of her late husband (and father of their daughter).
But the truly amazing part of this column (and column, not news piece it was) by Jodi Rudoren — the Times' Jerusalem bureau chief — is the incredible effort made to humanize Salah as much as possible. Here are the lowlights:
"Mr. Salah was flush with more than $100,000 saved from the Palestinian Authority's monthly payments to prisoners' families. He remodeled and refurnished his mother's home. He bulldozed the rocky slope out back and built a 2,400-square-foot pen for livestock. He invested in a Nablus money-changing storefront in December, and, last month, bought his first car, a silver 2007 Kia Pride."
Providing the color, make and model of the car Salah spent part of his blood money on is a particularly nice touch. Did it have an iPod port and built-in GPS as well?
But nothing beats Rudoren going the full eHarmony route with these two gems:
"The morning of his release, Mr. Salah had run past the house to smell a favored carob tree, and then he climbed atop a sheep shed to survey the changed village…His brothers soon set about finding him a bride."

[…]

"At his pre-wedding celebration in the village square, the groom stood on stage looking stunned, gifts of cash pinned all over his shirt, as hundreds of men and boys danced and shouted slogans of liberation. The next day, the couple — nearly strangers, nearly a generation apart — used a large steel sword to cut a cake exploding with fireworks."
Warms your heart, doesn't it? Slaughter an innocent man in his sleep, win cash prizes and a bride you don't even have to court, date or compel to care about you in any way shape or form.
But it's the Times' attention to detail in turning Salah into a kindhearted underdog (think of Notre Dame's Rudy) for whom we should all root that is truly nauseating.
Rudoren reports — and these are her words — that Palestinians convicted of murder by Israel and freed "have begun to rebuild disrupted lives."
"Disrupted."
Cancer disrupts your life. A flood or mudslide hitting your home disrupts your life.
Admittedly killing an innocent man with a lead pipe and rightly going to prison for it?
In Rudoren's world, that's an inconvenience…
A disruption.
The fairytale ends this way in the final sentence, which (of course) comes not from the victim's wife or daughter, but from the saintly Salah himself: "I'm away from the conflict now," he said. "I've paid the tax in full. If tomorrow there is a third intifada, I'll sit on this couch, and watch it on TV."
Maqdad Salah should still be sitting in a prison cell.
But he got lucky by being part of a negotiation.
Now he can walk by and smell his favorite carob tree while attempting to start a family with his young wife and new business.
And thanks to the New York Times, the paper of record, he should be celebrated for doing so.
— —
>> Follow Joe Concha on Twitter (@ConchaMedia)
Have a tip we should know? tips@mediaite.com