Condoleezza Rice In Online Debate: U.S. 'Does Not Always Have Direct Means' To Sustain Democratic Institutions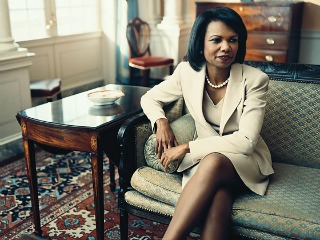 Today, former Secretary of State Condoleezza Rice took part in an online debate on the topic of "Connecting the Dots: 9/11, U.S. Policy, and the Arab Spring" following a syndicated piece she wrote concerning the 9/11 attacks and their global aftermath. Her column is a powerful one, and one that will likely come as a surprise to those not entirely familiar with Rice beyond her role as a member of the Bush administration. She writes:
This is the link between what happened on 9/11 and the urgency of democratic reform throughout the Middle East. For 60 years, the US sought stability at the expense of democracy in supporting authoritarian regimes. But we should have known better.

If people have no way to hold their governments accountable through peaceful change, they will do so violently.
The debate's structure allowed those interested in participating to articulate their opinions in 750 characters or less, as well as to interact with fellow participants and note which responses they found the most intriguing and valuable (by issuing a "mic").
The participant with the most popular opinion (in terms of "mics" received), Anna Day, had her question answered directly by Rice herself. Day's question — which appears in a post titled "Bush Administration's Actions Don't Match Ms. Rice's Words" — referred to Bahraini opposition leader Mattar Ibrahim Mattar, who has recounted once being told by Rice that "America has its own interests in this region."
The most pertinent portion of Day's post appears below:
He, like many Bahrainis, still refuses to believe that America's economic and security interests are best served by supporting undemocratic regimes. While I agree with her op-ed, why didn't she apply these principles to the people of Bahrain? Moreover, why didn't the administration of which she was a part apply these principles in Egypt, in Yemen?
Rice, who thanked Day for the thoughtful question, responded candidly:
The point that I had made earlier to Matar Matar is an important one. The United States is not an NGO, meaning it does not have a narrow set of interests that can be pursued at the expense of other policy objectives. Rather, on any given day, policymakers within the U.S. government face tradeoffs in decision-making and seek to develop a balanced approach. In this regard, Egypt deserves particular attention.

To those in Egypt today who question the United States' commitment to their democratic future, I say that if we let you down, it was not for a lack of trying to hold you up. The reality is that the United States does not always have direct means to empower oppressed segments of a population or to sustain democratic institutions.
If you're interested, you can read her full response here.
In all, the online debate provided an organized and easy-to-use platform allowing the interested and curious to engage one-on-one with Rice — adding a much-appreciated, truly social social media component to her editorial piece.
Read Day's question and Rice's response and let us know what you think of the format. What question would you have wanted to ask Rice about her column?
h/t PolicyMic, image via Glamour
Have a tip we should know? [email protected]