'Congratulations to Milo on His New Job at Fusion': Twitter Responds to Milo's Resignation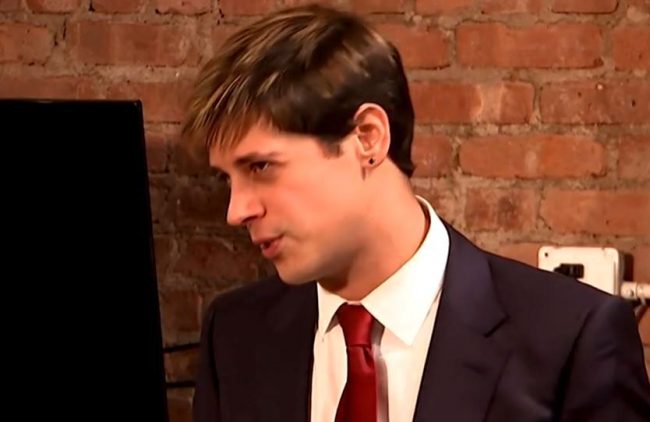 It didn't take long for Twitter to explode over the news of Milo Yianopoulos's resignation as Breitbart tech editor.
He wants to be a non-political celebrity personality. #Milo

— Richard ? Spencer (@RichardBSpencer) February 21, 2017
The right getting praise for taking a stance against pedophiles and anti-semitism – the bar is at an all time low.

— billy eichner (@billyeichner) February 21, 2017
I wonder how many people have reported Milo Yannopoulos to ICE since he's now an unemployed freeloader in this country.

— Jeremy Bolaños (@JeremyBolanos) February 21, 2017
Milo resigns from Breitbart after he was caught meeting the editorial standards at Breitbart

— Ned Resnikoff (@resnikoff) February 21, 2017
Reminder— Milo just resigned from the alt-right website that used to be run by Donald Trump's current chief strategist.

— Kyle Griffin (@kylegriffin1) February 21, 2017
Milo is almost bigger than Breitbart at this point.

Him leaving Breitbart is virtually irrelevant. pic.twitter.com/YPuJqeqES9

— Paul Joseph Watson (@PrisonPlanet) February 21, 2017
Congratulations to Milo on his new job at Fusion.

— Brian Beutler (@brianbeutler) February 21, 2017
Milo is leaving to spend more time with his Pepe.

— Rick Wilson (@TheRickWilson) February 21, 2017
really want to make sure the name milo is restored to its rightful owner pic.twitter.com/I8D5jI991d

— Melody Joy Kramer (@mkramer) February 21, 2017
Milo thinks "don't be a huge asshole" is an oppressive social restriction, I guess?

— nilay patel (@reckless) February 21, 2017
The snippet of Milo's press conference I watched said the U.S. is repressive on free speech, which is funny coming from a Brit.

— Matt Ford (@fordm) February 21, 2017
There were some, though, who still came to Yiannopoulos's defense.
43. You see Milo is what happens when liberalism takes hold. He is a product of liberal corrosion. Liberals own….that.

— TrumpkinsBakery ? (@katomart) February 21, 2017
I knew the min I saw the attack on #Milo #miloyiannopulos that he's being taken down. This is a coup to deflect from the REAL PEDOS!

— Kris crane (@KrisKris10csb) February 21, 2017
I don't share your love of Milo but the media sure seems to relish pummeling a victim of man in child rape. @Cernovich

— ?? Jorj X. McKie (@mr_inkcognito) February 21, 2017
I support Milo. Block me if you want.

— CHARTER ?? (@TrueCharter) February 21, 2017
And some didn't limit their vitriol to just Yiannopoulos; they went after Breitbart, as well.
breitbart news
– garbage when andrew breitbart ran it
– garbage when bannon ran it
– garbage w milo
– garbage without milo
– garbage

— Oliver Willis (@owillis) February 21, 2017
I bet money that Briebart gave Milo a nice severance package to go away.

— Chad S (@StormysDaddy) February 21, 2017
It seemed as though even the dictionary people at Miriam-Webster even wanted to get in on the action.
A popular lookup on our site, 'schadenfreude' refers to the joy you might feel at another person's pain. https://t.co/NEGz6KiFQf

— Merriam-Webster (@MerriamWebster) February 21, 2017
Yiannopoulos's resgination comes after the firebrand was slated to speak at the Conservative Political Action Conference (CPAC), a video of him discussing pedophilia made the rounds on Twitter and earned pretty widespread condemnation.
Responding to the outcry and insisting that he has an "utter disgust [for] adults who sexually abuse minors" Yiannopoulos acknowledged that "these videos, even though some of them are edited deceptively, paint a different picture." Not long after that publisher Simon and Schumer reneged on their contract with the provocateur to publish his book, Dangerous.
[image via screengrab]
Have a tip we should know? tips@mediaite.com