Congress Forms 'Problem-Solving' Caucus to Combat Inability to Solve Problems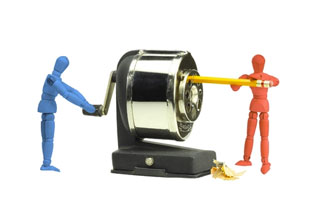 A bipartisan group of over 90 congressmen today announced the formation of a caucus, expressly created to answer the burning, difficult question of our time: How can Congress solve problems?
For real, The Hill actually reported that the group announced its existence at a No Labels summit this morning, and vowed to find bipartisan ways to solve some burning problems, such as energy independence and budget-balancing, since it is so very hard for Congress to solve a problem.
And why is it so hard? "The reason some of these problems have not been solved is because they are difficult to solve," Rep. Reed Ribble (R-WI) actually said.
Thankfully, co-chairman Sen. Joe Manchin (D-WV) elaborated on that rather obvious statement:
Not long after arriving in Washington, Manchin said he became quickly disenchanted because he felt like the upper chamber was more focused on politics instead of policy.

He suggested that Washington could work better if lawmakers were more willing to not only gather support across the aisle but reach across the Capitol to those who are willing to put aside partisan politics.

"We don't cross the aisle that much, we don't cross the aisle in our own Senate," he said.
But perhaps Manchin (or the reporter who filed this for The Hill) is bleak about the prospects:
Manchin said he want to be part of the first generation in U.S. history to "turn over the reins" of the country in worse shape than they received it.
Had to read that a few times to understand. Still not quite sure the senator or the author realize how that reads.
Anywhow, these are all real things and real groups that real people have formed, because Congress is so terrible and so broken.
[The Hill]
[Image via Shutterstock]
—
>> Follow Tina Nguyen (@Tina_Nguyen) on Twitter
Have a tip we should know? tips@mediaite.com