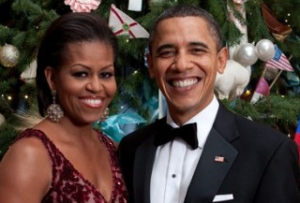 Conservative blogs have raised eyebrows at a New York Times report that President Obama and his family did not go to church on Christmas, instead having a "low-key" Christmas celebration in Hawaii and visiting a military base in the area. The Times report, however, notes how much more private President Obama prefers to keep his faith as opposed to previous presidents.
Both The Blaze and Breitbart took note of how during an annual "Christmas in Washington" event, the president called Christmas "a time to remember the story of a child born to two faithful travelers on a holy night, long ago."
The Times report cites a statistic showing the president has attended church 18 times since he was first sworn in as president, though one former White House religious official says that number says nothing in and of itself about Obama's faith.
"President Obama is a committed Christian," said Mr. [Joshua] DuBois, who sends the president a daily devotional by email, and is the author of "The President's Devotional."

"He has a serious practice of faith even though he doesn't necessarily wear it on his sleeve," he said.
A Pew survey this month finds that only 54 percent of Christians attend religious services on Christmas, and just a little over one-half of Christians consider it to be more of a religious holiday than a cultural one. It also takes note of the generation gap in religious views of the holiday.
Adults under age 30 are far less likely than older Americans to say they see Christmas as more of a religious than a cultural holiday. They are also less likely to attend Christmas religious services and to believe in the virgin birth… the new survey also shows that even among Christians, young people are more likely than older adults to view Christmas as more of a cultural than a religious holiday.
— —
Follow Josh Feldman on Twitter: @feldmaniac
Have a tip we should know? tips@mediaite.com
Josh Feldman - Senior Editor