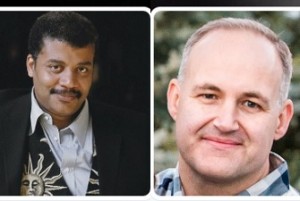 After being humiliated by celebrity astrophysicist Neil deGrasse Tyson last week, conservative radio host Neal Larson has quit his newspaper column. Larson wrote a column denouncing Dr. Tyson as a "horse's astrophysicist," and included a reference to an anecdote involving Tyson's mockery of a little girl. That anecdote, it turns out, derived from the parody website Clickhole, which was just one of many disagreements Tyson pointed out in a lengthy blog comment responding to Larson's comment. That response was publicized by a number of national websites, resulting in a lot of attention.
In Larson's farewell column, he explained that the unwanted attention from his exchange with Dr. Tyson is causing him to quit writing the column, although his radio show will continue:
I love writing. I mean I really love writing. Not that I'm good at it, but it's therapeutic. It's an escape. It forces me to order my thoughts. It's an alternate form of expression. It's all the reasons writers write. In my field I write to persuade. But for me, right now, I'm conceding defeat to a machine that is horrifyingly efficient in destroying people who make a thoughtless, foolish mistake. Perhaps I'd have the mettle to power through this had there not been so much personal collateral damage.

One day maybe I'll take another crack at it, possibly when the stigma of being the nation's laughing stock wears off and I can write with a cleaner slate. Let me end on a note of gratitude, first to the editor of this paper for carrying my column, and to the readers for reading it. And finally, to those who encouraged me this past week and did not pile on when you could have. You mean the world to me.

For now, farewell.
The column is appended with perhaps the most poignant editorial logline I've ever seen: "Neal Larson of Idaho Falls was a newspaper columnist."
Whatever you think of Larson's various theses or the depth and merit of his self-pity, it needs to be said that within the lengthy apology he delivered on his radio show, Larson displayed honesty rarely witnessed in the media world:
I threw it in to get closer to my word count.
Alas, Neal Larson may have lost a newspaper column, but with that refreshing and cautionary bit of candor, he gained at least one liberal fan in this commentator. Godspeed to you, Neal Larson, and to your word count.
This is an opinion piece. The views expressed in this article are those of just the author.