Conservative Lawyer Sues Obama, Black Lives Matter Activists For Inciting 'Race War'
He's suing on behalf of all law enforcement officers, Jews, and Caucasians who have been 'targeted'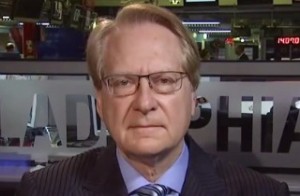 Controversial conservative legal activist Larry Klayman has filed a class action lawsuit against President Obama, Rev. Al Sharpton, Louis Farrakhan, former Attorney General Eric Holder, and a host of other Black Lives Matter activists, alleging that they have incited a "race war" against law enforcement, Jews, and whites.
This "race war" has been meticulously planned by a well organized, concerted effort to inculcate a "fiction" in "disaffected blacks and black Muslims" that they are disproportionately targeted by law enforcement, Klayman alleges.
Klayman is suing on behalf of "law enforcement persons of all race and ethnicities," as well as Jews and Caucasians who have been "threatened and targeted and harmed by the Defendants' ignited race war."
He writes in his 52-page complaint:
Those Defendants have repeatedly incited their supporters and others to engage in threats of and attacks to cause serious bodily injury or death upon police officers, Jews, and Caucasians. Thus, Defendants, each and every one of them, jointly and severally, conspiring and/or acting in concert either expressly or otherwise, are inciting and causing serious bodily injury or death to police officers and other law enforcement persons of all races and ethnicities, Jews, and Caucasians.
Specifically, Obama and other defendants have "convinc[ed] their supporters and others that there is a civil war between blacks and law enforcement, thereby calling for immediate violence and severe bodily injury or death in response to that non-existent and fictitious threat," he alleges. Furthermore, they "are encouraging disaffected blacks and black Muslims to ignore, disrespect, and assault law enforcement officials, and commit violence and lethal force."
Obama and Holder conspired and strategized with Black Lives Matter activists as part of Obama's "divide and conquer" strategy to rend the nation apart, which has been ongoing since Oct. 2008, Klayman writes.
"As a high profile white man of Jewish descent who has served as a law enforcement officer, he has personally been "subject to, and continues to be subject to, fear and intimidation of serious bodily injury or death by those who wish to harm him," he writes.
He alleges that each one of the defendants has "publicly incited people to violence against" him personally and all law enforcement, Jews, and Caucasians, using as a pretense "the fiction that blacks and black Muslims and other minorities are being arrested and prosecuted disproportionately to the crimes that individual arrestees actually committed."
Klayman, a resident of Florida, filed the suit Saturday in federal court in the Northern District of Texas. The district includes Dallas, where five law enforcement officers were murdered and nine others injured on Jul. 7 by a man who said he wanted to kill white people, specifically white officers. Klayman lays the blame for the ambush squarely at the feet of Obama and the other defendants, writing: "The inevitable, entirely foreseeable, and predictable result proximately caused by the war and [sic] law enforcement became crystal clear Thursday night, July 7, 2106 [sic], in Dallas, Texas."
Obama has waged a "War on the Police," and slandered them by accusing law enforcement of "engaging in a conspiracy to 'hunt' down black men purely for sport," Klayman writes. He cites as evidence the president's remarks in Warsaw, Poland, following the deaths of Alton Sterling and Philando Castile at the hands of police. The men's deaths were "not isolated incidents," Obama said, but were "symptomatic of the broader challenges within our criminal justice system, the racial disparities that appear across the system year after year, and the resulting lack of trust that exists between law enforcement and too many of the communities they serve."
Klayman alleges:
Clearly, the accusation that shootings "are not an isolated incident" is an incitement claiming that there is a knowing, intentional related and connected conspiracy — "not isolated incidents" — to intentionally murder Black people.
In a blog post published on WND Friday, Klayman even blamed Obama for the deaths of Sterling and Castile, writing, "It is no wonder some cops, fearing for their lives in this anti-white, anti-Semitic and anti-Christian environment, sometimes are prone to literally pull the trigger too quickly."
Klayman is the founder of watchdog conservative organizations Judicial Watch and Freedom Watch, and he is the attorney for controversial Arizona lawman Sheriff Joe Arpaio, who was recently found in contempt of court.
He once petitioned to have the president deported on the basis that he was an "illegal alien" who was born in Kenya. (He writes in his complaint that "upon information and belief," the president is a "citizen" of Illinois, though "citizen" in this context refers to wherever the party can be said to reside for jurisdictional purposes.) And he recently described Obama as "an out-of-control president who rules like he is King George III in 1776."
Klayman is suing for $500 million or $1.5 billion in trebled damages where appropriate, as well as unspecified punitive damages.
Have a tip we should know? tips@mediaite.com