Conservative WH Reporter Rails Against Jamal Khashoggi, Suggests He Was Murdered Because He's a 'Radical Activist'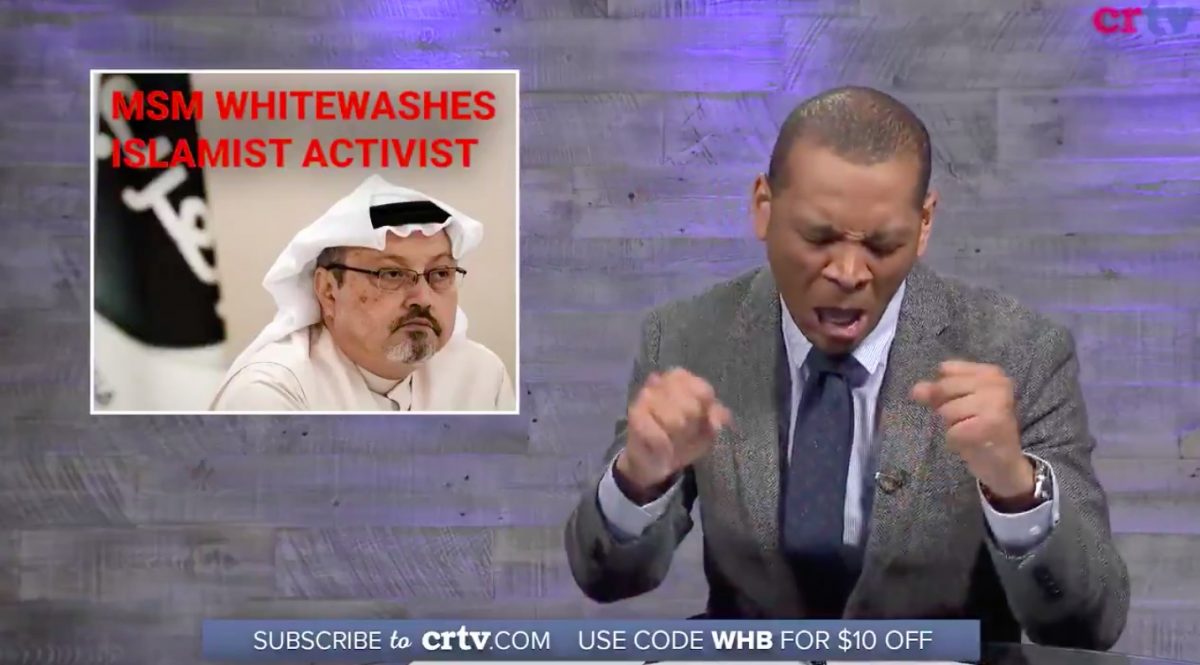 Strap yourselves in folks, because a host on conservative streaming platform CRTV went on an absolutely bonkers and fact-challenged rant about the alleged murder of Saudi dissident Jamal Khashoggi by smearing him as an Islamic extremist.
The bizarre rant from CRTV's White House correspondent Jon Miller kicked off with the CRTV host mocking "innocent little man" Khashoggi, a Washington Post contributor who was lured into the Saudi Arabian consulate in Istanbul, where Turkish officials claim he was tortured, beaten, dismembered and murdered by a team of 15 Saudi agents.
Miller, referring to Istanbul as "Constantinople," said the media is "not telling the truth about Khashoggi." He then derided him as a "radical activist."
"We know he had ties to the radical Islamic groups — they're not reporting that — we know he made calls for violence against Israel, we know that he was dedicated to transforming Saudi Arabia into a more regressive state. And maybe that's why he didn't come out of that consulate," Miller said.
"Khashoggi was an Islamic activist, who was tight with the Muslim brotherhood," Miller continued. "He was an extremist, guys! Or at least, I should say, an extremist sympathizer, because, you know, he didn't want to do the bombs himself, he just wanted to other people to do the bombing, guys."
Miller then said Khashoggi was a "longtime friend" of Osama Bin Laden, and "wept" when the al-Qaeda founder was killed. Miller mimicked Kashoggi crying, saying "that might mean you're extremist when you cry for the guy who's responsible for 3,000 Americans killed in terrorist attacks.
Khashoggi interviewed Bin Laden in Afghanistan in the 1990s when both were were allied with the anti-Soviet mujahedeen. After 9/11, however, Khashoggi wrote: "Osama bin Laden's hijacked planes not only attacked New York and Washington, they also attacked Islam as a faith and the values of tolerance and coexistence that it preaches."
When Bin Laden was killed, Khashoggi wrote on Twitter that he cried:
"I collapsed crying a while ago, heartbroken for you Abu Abdullah (a nickname for Osama bin Laden). You were beautiful and brave in those beautiful days in Afghanistan, before you surrendered to hatred and passion."
The last line of Khashoggi's tweet is curiously omitted from Miller's commentary.
Miller also called Business Insider "a publication that used to be good until they were castrated by beta-male corporatists" — make of that what you will.
Watch here, if you can bear it:
Jamal Khashoggi is feared dead and according to the mainstream media … it's Trump's fault?

What they AREN'T reporting is that this man wasn't just a journalist for the Washington Post. He was a radical activist with ties to the Muslim Brotherhood!@MillerStream w/ more: pic.twitter.com/OdijzmGPTk

— CRTV (@CRTV) October 17, 2018
Have a tip we should know? [email protected]
Aidan McLaughlin - Editor in Chief