Convicted Felon Who Got on Elevator with Obama Wasn't Actually a Convicted Felon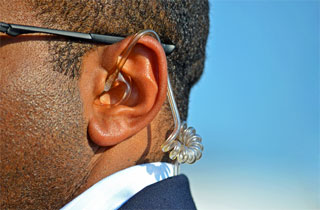 The revelation that the Secret Service had let an armed convicted felon get on the same elevator as President Obama was the final nail in the coffin on Julia Pierson's tenure as the director of the Secret Service. The Washington Post, which reported the news of that egregious breach, yesterday published an article correcting a small fact: the guy wasn't a convicted felon after all.
The Post admitted that they'd misidentified the guy and in an article printed yesterday, described that the so-called felon was actually some poor guy with a few prior arrests and no understanding of personal space:
The man, who worked for a private security contractor at the Centers for Disease Control and Prevention, was removed from the president's elevator during his Sept. 16 visit to Atlanta. The man was questioned by Secret Service agents after he did not comply with a request from agents that he stop recording images of the president with a camera.

Agents became concerned that the private contractor might be a risk to the president because of his behavior; others who later ran a background check on the guard discovered some prior arrests in his history.
A legitimate security concern? Absolutely. A convicted felon who should have never been let within 100 feet of a President? Nah. To their credit, the Post admitted that they should have been more cautious with their reporting, adding that the Washington Examiner, which broke the story, only stated that the contractor had a criminal record. (Then again, they waited nearly a month to issue that correction, so yeah.)
[The Washington Post]
[Image via Shutterstock]
—
>> Follow Tina Nguyen (@Tina_Nguyen) on Twitter
Have a tip we should know? tips@mediaite.com