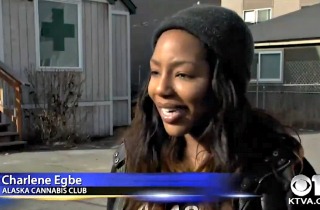 Former KTVA anchor Charlo Greene made news last year when she proclaimed on the air that she was quitting her job to focus on her pro-marijuana campaign for the Alaska Cannabis Club. Well, that club was raided by police on Friday, reports Greene's former employer, KTVA.
Law enforcement officials acted on a search warrant which said "there is now being concealed property, namely: Marijuana, in cultivation or harvested, resins, oils, hashish or other THC derivatives, concentrates, edibles and equipment used in the extraction of THC," among other "illegal transactions." Officials also searched for electronic statements "used in or intended for use in or derived from trafficking in controlled substances."
Greene, whose real name is Charlene Egbe, told her former employer that they took a few marijuana plants, bongs, pipes, phones, computers and two vehicles from the residence. She claimed it was only a "fourth degree misdemeanor."
"This is basically a medical marijuana dispensary," Greene, the CEO of the Alaska Cannabis Club, told KTVA as she watched authorities raid the building. "We don't sell any recreational marijuana, we don't sell any medical marijuana. This is a place for card holders to come and share their own cannabis."
Greene told the Associated Press in an email that she reopened the club the next day: "By opening back up bright and early, less than 24 hours after the local police department's failed scare tactic, we, at the Alaska Cannabis Club, have made it clear that the will of the people is stronger than any force they have — and we aren't going anywhere."
Recreational marijuana use is currently legal in Alaska, but it is still illegal to sell pot and smoke it in public places. KTVA only identified Greene as a "former television reporter," and did not mention that she used to work for the network. No arrests were made at the scene, and nobody was charged with a crime.
Watch the report below, via KTVA:
[Image via screengrab]
— —
>>Follow Andrew Desiderio (@forza_desiderio) on Twitter
Have a tip we should know? tips@mediaite.com