Cracks Begin To Show: Lawmakers Begin To Question 'Off The Tracks Legally' NSA Info Gathering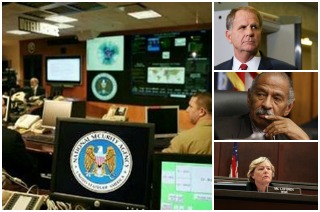 In the immediate wake of the scandals surrounding the National Security Agency's sweeping monitoring of Americans' communications, members of the House Intelligence Committee held hearings in which they grilled NSA officials over the scope of the newly revealed programs. Lawmakers initially appeared sympathetic to the goal of the programs and the success rate NSA officials claimed those programs had in preventing terror attacks. Recently, lawmakers tasked with overseeing the legality of America's intelligence programs are expressing more skepticism about just how acceptable NSA practices really are.

RELATED: Mediaite Announces: 'Privacy, Security, And The Digital Age' — The Debate That Will Define 2013
"The backlash appeared to focus on the concern that the Obama administration's interpretation of its powers far exceeds what lawmakers intended," a Washington Post report published Wednesday reads.
"This is unsustainable, it's outrageous and must be stopped immediately," said Rep. John Conyers Jr. (D-MI) during a House Judiciary Committee hearing. ""I maintain that the Fourth Amendment to be free from unreasonable search and seizure means that this metadata collected in such a super-aggregated fashion can amount to a Fourth Amendment violation before you do anything else."
"I think very clearly this program has gone off the tracks legally and needs to be reined in," Rep. Zoe Lofgren (D-CA) agreed.
"[Edward] Snowden, I don't like him at all, but we would have never known what happened if he hadn't told us," Rep. Ted Poe (R-TX) observed.
The Age reports that NSA Deputy Director John Inglis revealed during the committee hearing details of a practice referred to as a "hop."
"A 'hop' refers to the way in which analysts broaden their analysis," The Age reports. "When analysts believe they have cause to suspect an individual, they will look at everyone that person has contacted, called the first 'hop' away from the target. Then, in a series of exponential ripples, they look at everyone all those secondary people communicated with. And from that pool, they go on to look at everyone all those tertiary people contacted. This is called a second and a third 'hop.'"
Although many questions about the program remain, administration officials offered new details about the methodology used to analyze the data. For the first time, they suggested that when the government queries its database of phone records – as it did 300 times last year — it was likely looking at the phone records of huge numbers of individuals.
The question of privacy issues is certain to dominate the public debate for months to come and may become a feature of the public debate heading into the 2014 midterm election season. Mediaite will explore these and other issues relating to privacy at a panel event in Washington D.C. on July 23: "Privacy, Security, And The Digital Age."
This event is for press and policy makers. If you would like to request an invite, please email [email protected] or mark your calendars and check out the livestream that will air here that evening.
> >Follow Noah Rothman (@NoahCRothman) on Twitter
Have a tip we should know? [email protected]