Crazy In Love: Wife Of Tacoma Mall Shooter Claims Her Murderous Husband Is Still 'The One'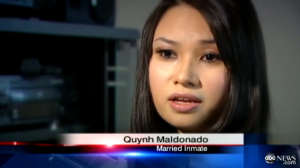 Today in insanity… A woman the Huffington Post refers to as the "Tacoma mall shooter bride" told ABC Tacoma's Tracy Vedder that after she saw her now-husband, Dominick Maldonado, on TV for shooting seven people, she "felt madly in love with him".
In the rather disturbing interview, Quynh Maldonado tells Vedder all about her love story. She sent her husband letters and topless pictures (always the path to true love) and the two were eventually married in a small ceremony at Stafford Creek Correction Center. Quynh also told Vedder that she heard her husband's recent prison break attempt was for her but said that "if he did it for love then I guess I shouldn't really be that mad about it."
The breakout attempt, however, in which Maldonado held a pair of scissors to a guard's neck while another inmate attempted to break down the prison fence with a bulldozer, probably means more separation for the star-crossed lovers. The two already only communicate through letters, pictures, phone calls and the occasional visit (nothing conjugal until they have been married for three years) but will be even more limited in their connections now that Maldonado has been moved to a maximum security prison.
Before she fell in love with Maldonado, Quynh said that she didn't have very many friends. The love of her life was her Siamese cat. Lest you fear that the cat felt rejected, Quynh clarifies that "I don't feel like Dom is taking its place. It is just that Dom is another love of my life, basically — but in a human way."
I truly commend Vedder's reporting skills in this segment, which was picked up by Good Morning America. I'm sure that few could have made it through the following exchange with such grace:
Vedder: Have you had other boyfriends before?

Quynh: No.

Vedder: Are you working at all now?

Quynh: Oh no.

Vedder: Have you finished school?

Quynh: Actually I quit school in ninth grade 'cause I couldn't stand the whole bullying thingy.
ABC brings on sociologist Pepper Schwartz who notes that this sort of relationship can be dangerous and that it probably provides a "fantasy escape". Good Morning America also interviewed psychology Ann Rosen Spector who said "I don't know what her relationship history is, maybe he's better than nothing." Sure.
Watch every moment of ridiculousness below:
Have a tip we should know? tips@mediaite.com