Secretaries Of Defense Are Just Like Us: Donald Rumsfeld Receives TSA Pat-Down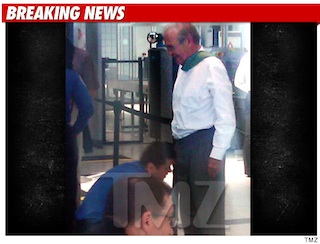 Yesterday, we brought irrefutable proof that travelling sucks for everyone with the sad story of a United States Governor forced to sleep on an airport floor just because the rain decided to get all icy for a bit. Yes, our country's leaders also have to face the indignities of air travel, be they delays, long lines, or stores trying to sell bottled water for $5. To further prove this thesis, we give you former Secretary of State Donald Rumsfeld who had to undergo one of those annoying TSA pat-downs everyone's so worked up about.
Yes, no one can escape the cold, sterile grip of modern travel as signified, in this case, by the warm, bored grip of some dude who really can't wait to go home and stop groping old people.
The photos of Rumsfeld popped up the other day over at TMZ, marking his first appearance on the gossip site (I guess he doesn't have a penchant for drunkenly stumbling out of LA nightclubs). TMZ cites sources as saying Rumsfeld was "very nice" and waved to servicemen who recognized him.
Yesterday, Rumsfeld linked to the pictures on his Twitter: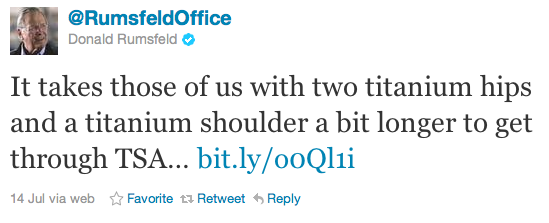 My second favorite part of this story is that TMZ then wrote another post today about Rumsfeld's tweet in which they seem genuinely tickled pink to be on the radar of someone whose power extends beyond starring in a reality show on E!. What's my favorite part of the story? That TMZ titled that post with this headline: "Donald Rumsfeld — I've Got TITANIUM In My Pants!" Nice.
(h/t Mother Jones via Soup)
Have a tip we should know? tips@mediaite.com