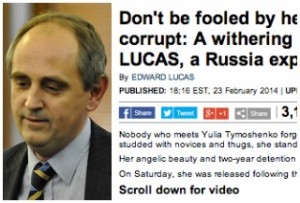 Edward Lucas is a senior editor at the well-esteemed publication The Economist. He also writes a column for the not-as-well-esteemed Daily Mail, and a new piece he wrote on a female Ukranian politician has come under intense fire for being extremely sexist, focusing quite a bit on her "angelic beauty" and other facets of this beauty in a piece about how she's not quite the angel people believe her to be.
Yulia Tymoshenko is a former Prime Minister of Ukraine who was thrown in prison two years ago only to be released over the weekend after the revolution that forced the president to flee. Here's part of Lucas' column, just to give you some idea of just how bad it was:
Mrs Tymoshenko's immaculate blonde tresses and sometimes kittenish ways have led many macho politicians in the Ukraine — and abroad — to underestimate her. The truth is that her determination is terrifying. Nobody and nothing gets in her way.

When she needs to, she is prepared to use her undeniable sexual magnetism.

An ambassador once told me that a two-hour journey he spent in her sound-proofed, tinted-window limousine was the most sexually threatening experience of his life.

I have interviewed her many times. Her body language, eyes, coquettish tosses of the head and cooing tones are almost hypnotic. But she is also capable of explosive anger. I have seen her shriek and curse in terrifying eruptions of rage: the kitten turns into a tigress.
All that needs is a rawr to remove all subtext.
He goes on a bit more about how angry she can get and how power-hungry she is, but it's the comments about her looks and "sexual magnetism" getting criticism. So National Journal did a pretty thorough takedown of the column, describing it as a "bad parody of misogyny."
But the absolutely amazing part is that Lucas himself actually responded in the comments to the National Journal piece with what may be the worst defense against sexism of all time [all emphasis mine]:
Hello there. I am glad to have sparked a debate and sorry for any offence to the tender feelings of non-Daily Mail readers. I would note in my defence that the Daily Mail is a paper where femaile journalists are not allowed to wear trousers in the office because it offends the editor, and where a large chunk of each issue is taken up with sneering picture stories about women who have "let themselves go" (ie aged) or have had "work done" (ie tried to disguise its effects). You might ask why I would write for a paper with values like that. The answer is that it is a good way to reach a huge slice of middle England which does not read the Economist (let alone the National Journal). I will be happy to discuss YT's politics at length if I am commissioned to do so by another outlet interested in a serious analysis.
So in other words, his defense is that the Daily Mail is a crazy sexist paper so of course he's going to be as sexist as humanly possible to fit in!
Good one.
[h/t Daily Intelligencer via Poynter]
[photo via Saeima, screengrab]
— —
Follow Josh Feldman on Twitter: @feldmaniac
Have a tip we should know? tips@mediaite.com
Josh Feldman - Senior Editor