Daily News Columnist Shaun King Asks If African Americans Can Get the 'Ahmad Khan Rahami Treatment'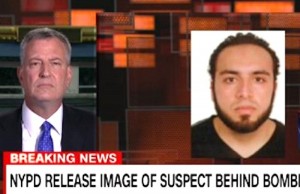 Following reports that alleged New York bomber Ahmad Khan Rahami was apprehended alive after a shootout with police, New York Daily News columnist Shaun King asks: "Can African-Americans all over the country get a little of that Ahmad Khan Rahami treatment?"
King, a prominent figure in the Black Lives Matter movement, contrasts the authorities' treatment of Rahami with that of a man named Terence Crutcher.
Rahami, who is suspected of planting homemade bombs throughout New York and New Jersey, including one that detonated in Manhattan Friday night, injuring 29, was taken alive after injuring two police officers in a firefight.
Crutcher was unarmed when he was Tased and shot dead by police officers in Tulsa, Oklahoma, on Friday night, after his SUV had stalled in the middle of the road.
King writes:
The family of Terence Crutcher could've really used some of that Ahmad Khan Rahami police work.

Instead, they got the firing squad, which is curious, because the FBI didn't put an APB out for Terence. He didn't plant a bomb. He wasn't armed or dangerous. He wasn't even a suspect.

The man's car simply broke down in the middle of a busy Tulsa intersection as he left Tulsa Community College. When police saw Crutcher, they weren't even there for him, but were on their way to another call.

Crutcher didn't have a gun or shoot anyone. He didn't even need the police. He needed a damn tow truck. Within minutes he was dead. Police shot and killed him right there next to his broken down SUV.
King references the killers responsible for the massacres in an Aurora, Colorado movie theater and a Charleston, South Carolina church, both of whom were white and were arrested alive, and notes, "Black folk don't get that treatment."
You can read the complete column here.
Have a tip we should know? tips@mediaite.com