Dan Savage Threatens To Redefine 'Rick' If Santorum Does Not 'Behave' In The 2012 Election Cycle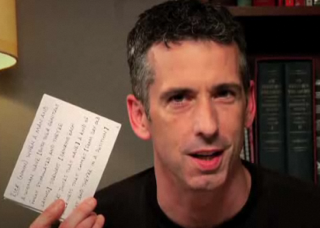 Sex columnist Dan Savage has no intention of letting Rick Santorum get away with being a third-tier Presidential candidate who opposes gay marriage. After a decades long assault on the word "Santorum" (it has now, through Google, been turned into a gay sex euphemism), Savage released a video warning that he has brand new definitions for "Rick" at the ready should the former senator say something offensive enough about the LGBT community.
The video, whose threat is somewhat diminished by the fact that it was released over the Funny or Die network, features a Liberty University-clad Savage warning that he already has a fully-loaded weapon up his sleeve: a grotesque definition for the word "Rick" to match that of his last name. This, of course, means that Savage has taken all sorts of people hostage, everyone with the first name, several of which plead with Santorum to "behave" else their names will be correlated to the definition, too.
In the funniest bit of the video, even Conan mainstay Andy Richter shows up to plead with Santorum, as "the new definition is so disgusting that even having the sound 'rick' in the first half of my last name is scaring me." The definition is never said in full, as most of the grossest stuff is appropriately bleeped out, but it sounds like both genders and several bodily fluids are involved. It's not really necessary to know what the details are. "The ball is in your court," Savage concludes, "and it's not like you can start going by Dick Santorum, is it?"
So what did Santorum do this time to trigger Savage's wrath? That seems to be the bit of mystery here. Sure, Santorum responded viscerally to Savage's comments about wanting to "fuck the shit out of him" on Real Time with Bill Maher a couple of weeks back, but it shouldn't be news to Savage that the man whose online reputation he destroyed thinks that he is "vulgar and disgusting and hate-filled." And a lot has changed in the decade since Santorum compared homosexuality to bestiality– enough that he has toned down his anti-gay rhetoric significant and even handled a couple of man-to-man affection situations in stride.
That's not to say that the comment that originally triggered this bizarre war wasn't thoroughly offensive, or that Santorum's attitude towards the LGBT community is, at best, suspect. But after a while, being vulgar and silly stops being a viable attention-getting mechanism for serious causes– especially against a candidate that has negligible support and a ghost of a chance of being on the radar in any of the 2012 primaries. Just as those who are inclined by outdated religious teachings to view the LGBT community as inferior gain no enlightenment from watching people dressed in leopard costumes throw glitter at politicians, so too will no one inclined to agree with Santorum find themselves more likely to oppose his views because a sex columnist decided the tired old joke "The Aristocrats" would be his new political bludgeon.
Watch Savage's message to Santorum via Funny or Die below:



[h/t]
Have a tip we should know? tips@mediaite.com