Dark Knight Rises Director Christopher Nolan And Morgan Freeman Comment On Limbaugh: 'Ridiculous'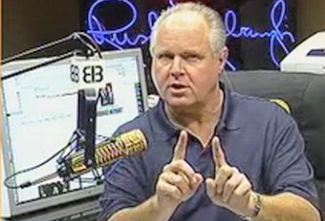 Last week, I was worried. With The Dark Knight Rises getting set to premiere, I was sure that I was going to have to watch a ton of news segments positing that the film was a secret conservative manifesto about the evils of Occupy Wall Street. Think I'm crazy? Obviously you didn't watch Fox News the week that The Hunger Games came out. Anyway, fortunately, I was way off. Instead we've had to hear nonstop about how Rush Limbaugh thinks the film is a secret liberal manifesto. The story has gotten so big that the film's director, Christopher Nolan, and one of its stars, Morgan Freeman, have been forced to comment.
RELATED: Conan O'Brien Thinks Rush Limbaugh Might Be Right About This Whole Bain/Bane Thing
For those of you who haven't been following the news (Wait? Why are you starting now? Go back outside, you fools!), earlier in the week, a bunch of political pundits who apparently were too excited about the new movie to talk about anything else began seriously theorizing how the villain's name, Bane, might affect the 2012 election. Rush Limbaugh jumped in and posited that it wasn't "accidental" and that the Obama campaign was purposefully starting a controversy over Mitt Romney's Bain Capital, not because of all the shady stuff surrounding Romney's time with the company, but actually because they'd heard there was a new Batman movie coming out and really wanted to trick people with silly homophones. Because, if there's anything we know about the presidential campaigns of the Democratic Party, it's that they have incredible amounts of foresight.
Anyway, Limbaugh's regular-level crazy accusation was then misinterpreted as a super-level crazy accusation as people thought Limbaugh had said the movie was purposefully made to hurt Mitt Romney.
That idea was too funny for people to let go, the story's gone viral, and now even the people behind the movie are being asked about it.
From ABC News:
"'I'm not sure how to address something that bizarre, to be honest. I really don't have an answer for it. It's a very particular comment to make,' [Christopher] Nolan said Wednesday at the London premiere of his final 'Batman' installment, 'The Dark Knight Rises.'

Actor Morgan Freeman, who plays Lucius Fox in the film, also called Limbaugh's contention 'ridiculous.'

'Chris wrote a fictional story that didn't have any political thoughts in mind, so it's like art or something you know, it's all in the mind of the beholder,' Freeman said."
There you have it. Batman is not secretly trying to destroy the Republicans or the Democrats.
By the way, if you think it sounds like I'm sick of writing about this, you're totally wrong. Like the pundits at the beginning of the week, I too would totally rather talk about Batman than do my job.
Batman Batman Batman
There's no way Anne Hathaway's gonna be as good as Michelle Pfeiffer, am I right? Pfeiffer freaking was Catwoman!
(h/t The Playlist)
Have a tip we should know? tips@mediaite.com