MSNBC Rebuts Hannity: Sharpton Never 'Rushed To Judgment' In Trayvon Martin Case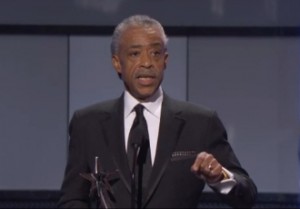 During his hour-long interview with George Zimmerman last night, Sean Hannity touched on the media coverage of the Trayvon Martin shooting and called out MSNBC host Al Sharpton by name as one of the people who "rushed to judgment" in their coverage of the case. Today MSNBC defended Sharpton from the accusation, saying that rather than rushing to judgment, Sharpton was cautious in his coverage and "repeatedly called for calm."


RELATED: CNN's Howard Kurtz On Trayvon Martin: How Can MSNBC Allow Al Sharpton To Cover This?
In a statement to POLITICO, MSNBC rebutted Hannity's question to Zimmerman and defended Sharpton.
"MSNBC would like to set the record straight following some misinformation presented by Fox News during the interview with George Zimmerman last night… Reverend Al Sharpton never 'rushed to judgment,' as stated by Mr. Hannity. Reverend Sharpton repeatedly called for calm and for a more thorough investigation in the wake of the tragic events. Ultimately, the authorities agreed an arrest was warranted."
Sharpton's coverage of the Trayvon Martin case, you may remember, came under particular scrutiny because not only was Sharpton talking about it regularly on his MSNBC program, but he was also working very closely with Martin's family. In April, Sharpton spoke at a press conference with Martin's parents standing next to him, and despite calling for Zimmerman to be arrested immediately, he insisted he was not rushing to judgment.
"To lecture us about rushing to judgment – we're a victim of a rush to judgment in this case."
The following month, Sharpton explained that the Martin family lawyer asked him to get involved because "justice was not taking its course" and said when he got involved, "the evidence supported that" Zimmerman needed to be arrested.
And MSNBC has consistently defended Sharpton's involvement in and coverage of the case. Phil Griffin, the head of MSNBC, explained back in March, "We didn't hire Al to become a neutered kind of news presenter."
h/t POLITICO
—–
Follow Josh Feldman on Twitter: @feldmaniac
Have a tip we should know? tips@mediaite.com
Josh Feldman - Senior Editor