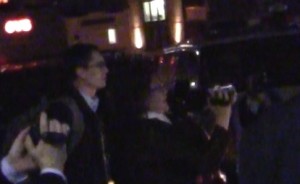 At Washington DC's Marriott Wardman Park Hotel last night, one of several Occupy DC protests escalated into a clash with Metro Police, as a group of more than a hundred protesters made their way onto the grounds of the hotel, the site of the Conservative Political Action Conference. The police, in part of a disturbing pattern, used force and threats of arrest to keep reporters away, and even detained at least one credentialed CPAC blogger.
The Occupy protesters took several shots at disrupting CPAC yesterday. They tried to advance onto the hotel grounds in the afternoon, but were turned away by a small contingent of police, who, at that time, threatened to arrest Slate reporter Dave Weigel. Shortly thereafter, a group of protesters made it all the way into the hotel, and were promptly escorted off the grounds.
Then, at around 7pm Friday night, a group of well over a hundred Occupy protesters marched on a rear entrance to the Marriott Wardman. I was waiting around at the McDonald's for a friend of mine to meet me for dinner, when I saw police vehicles racing down Connecticut Ave., turning up 24th to that rear entrance, and three or four policemen tore past me on foot, so I grabbed my camera and followed.
There were dozens of police there, lots of screaming, sounds of struggle, and chanting, and as I tried to get a shot of what was happening in that thick cluster of police, I was grabbed on the shoulder and thrown back by a DC policeman, who shouted, "Stay off my officers!"
I circled around to try a different angle (I was one of several reporters on the scene) when the same officer grabbed me again, pushed me away, and threatened to arrest me if I continued. One benefit of years of experience is that I knew better than to ask "For what?" since asking "For what" is one of many "reasons" people get arrested. The truth is, they don't need a reason to arrest you, they only need a reason if they want it to stick. Also, I was too tired and hungry to go to jail, so I complied.
One of the CPAC bloggers (featured in the video below), a middle-aged woman who took exception to the police's treatment of journalists, wasn't so lucky. As I left the scene, I saw her cuffed and being taken into custody, protesting loudly.
Ironically, that appears to have been the only arrest. When asked Saturday morning, a DC Metro Police spokesman said there was one arrest, a female (presumably the same one I saw), for "assault on a police officer."
She had complained earlier about being pushed and shoved around by police, so it is possible that she either unwisely decided to push back at some point, or that she reflexively resisted being manhandled. The police were unable to provide any further detail.
At one point in the video I shot, another police officer pleads with CPAC hecklers to go away, because they were making his job harder. That was a reasonable request, reasonably put, but it illustrates the tension between the press and police at these events. The police are doing their jobs, and so are reporters. We respect the job that the police have to do, but increasingly, they don't seem to respect the job we have to do, or the constitutional protections we're supposed to enjoy while doing it. That this occurred in Washington, DC, where police are normally more attuned to this kind of conflict, is doubly disturbing.
Here's video of the incident, including a shot of the woman who was arrested:
Have a tip we should know? [email protected]